Stana Katic Will Voice Talia al Ghul In Arkham City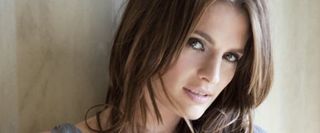 Stana Katic, star of Castle, will lend her voice to Rocksteady Studio's Batman:Arkham City. Katic will play the role of Talia al Ghul.
Talia al Ghul is the daughter of Ra's al Ghul, an international terrorist. She's no saint but she's virtuous enough to be a love interest for Batman in the comics. Her father actually favors the pairing in spite of his frequent conflicts with Batman, as he believes the Caped Crusader would be an excellent heir to his empire. It's not clear how much of these plotlines carry over to the game.
"Talia is such a complex character and it was great to voice her in Batman: Arkham City," said Katic. "I was amazed at all the detail put into the project and it's great to see how excited the fans are about the game."
In Arkham City, Gotham's most dangerous criminals have been relocated to a walled-off section of the city. Within "Arkham City," anarchy reigns. Batman's foes, including The Joker, Penguin, and Two-Face, battle for control of their prison. Batman is forced to venture into this hellhole to save Catwoman from execution.
Pictures of Talia al Ghul as well as Katic herself are below. There's a decent resemblance between the two, actually. I'm curious whether the artists modeled Talia after Katic.
Image 1 of 2
Your Daily Blend of Entertainment News
Staff Writer at CinemaBlend.