Star Wars: Battlefront, Battlefield 1942 Multiplayer Shut Down By EA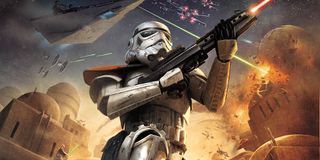 EA is shutting down multiplayer servers for 50 games on June 30th. The long list of affected games include some of the best multiplayer titles ever published by the company.
Battlefield 1942, Battlefield 2142 and every release between them will lose multiplayer. That pretty much kills those games given their online focus. You can play with bots but it's a serious downgrade from fighting against humans.
Star Wars: Battlefront and Battlefront 2 are in the same boat. They have single-player modes but you really don't want to play them. The real magic lay in being able to participate in huge battles from Star Wars lore. Maybe we'll have forgotten about these two older games by June 30th, though. EA plans to show off the next Star Wars: Battlefront at E3 earlier that month.
Whenever EA or another company announces that they're turning off multiplayer servers, I feel like I'm one of those poor folks on Hoarders that won't let their nephew throw out the mound of twenty-year-old newspapers in their bathtub. "No, don't throw that out! I might need it!" Sure, I haven't touched many of these games in years, but the thought of losing them forever suddenly ups their value.
As EA says, though, these older games have "typically fewer than 1% of all peak online players across all EA titles." At a certain point, it's not worth it for them to put time and money into keeping these titles online. Room has to be made for the new releases.
That's one aspect of gaming I'll never get used to: the constant demolition of the old to make way for the new. It's easy enough to read a two-hundred-year-old book or watch a film from the 1940's. Good luck playing an MMO that shut down last year, though. Hardware changes, servers shut down and we lose our older games whether we like it or not. Games that are played by millions of people now will eventually be played by no one. There's some preservation of history through remakes and re-releases but it seems like we lose far more than we save.
Anyway, rant over. Here's the list of games losing their multiplayer on June 30th:
Battlefield 1942 for PC and Mac (including The Road to Rome and Secret Weapons of WW2 expansions)
Battlefield 2 for PC (including Special Forces expansion)
Battlefield 2: Modern Combat for PlayStation 2
Battlefield 2142 for PC and Mac (including Northern Strike expansion)
Battlefield Vietnam for PC
Bejeweled (r) 2 for the Wii
Bulletstorm for PlayStation 3
Command & Conquer 3: Tiberium Wars for PC and Mac (including Kane's Wrath expansion)
Command & Conquer: Generals for PC and Mac (including Zero Hour expansion)
Command & Conquer: Red Alert 3 for PC and Mac
Crysis 2 for PC
Crysis for PC
Crysis Wars for PC
Dracula - Undead Awakening for the Wii
Dragon Sakura for Nintendo DS
EA Sports 06 for PC
F1 2002 for PC
FIFA Soccer 08 (KOR) for the Wii
FIFA Soccer 08 for Nintendo DS
FIFA Soccer 09 for Nintendo DS
FIFA Soccer 10 for Nintendo DS
FIFA Street 3 for Nintendo DS
Full Spectrum Warrior: Ten Hammers for PlayStation 2
Global Operations for PC
GREEN DAY: ROCK BAND for the Wii
James Bond: Nightfire for PC
Madden NFL 08 for Nintendo DS
Madden NFL 09 for Nintendo DS
Master of Orion III for PC
Medal of Honor: Allied Assault for PC and Mac (including Breakthrough and Spearhead expansions)
MySims Party for Wii
MySims Racing for Nintendo DS
MySims SkyHeroes for the Wii and DS
NASCAR Sim Racing for PC
NASCAR Thunder 2003 for PC
NASCAR Thunder 2004 for PC
Need for Speed: Hot Pursuit 2 for PC
Need for Speed: ProStreet for Nintendo DS
Need for Speed: Undercover for Nintendo DS
Neverwinter Nights 2 for PC and Mac
Neverwinter Nights for PC, Mac and Linux (including Hordes of the Underdark and Shadows of Undrentide expansions)
SimCity Creator for Wii
Skate It for Nintendo DS
Sneezies for the Wii
Spore Creatures for Nintendo DS
Spore Hero Arena for Nintendo DS
Star Wars: Battlefront for PC and PlayStation 2
Star Wars: Battlefront II for PC and PlayStation 2
THE BEATLES: ROCK BAND for the Wii
Tiger Woods PGA Tour 08 for Nintendo DS
Staff Writer at CinemaBlend.
Your Daily Blend of Entertainment News
Thank you for signing up to CinemaBlend. You will receive a verification email shortly.
There was a problem. Please refresh the page and try again.