Star Wars Battlefront Beta Will Introduce New Game Mode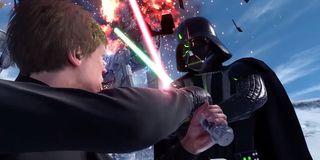 DICE confirmed today that there's going to be a Star Wars Battlefront beta test before the game's launch. This test will let players try out several game modes from the multiplayer shooter.
Battlefront beta testers will be able to jump into 40-player Walker Assault matches on Hoth. In this game mode, a team of Rebels must fight off an Imperial assault backed by enormous AT-AT walkers. The Rebels can capture Uplinks in the battlefield that let them call down Y-Wing bombing raids on the walkers. During the battle, players will also have the opportunity to become Luke Skywalker or Darth Vader and use their considerable Force abilities to turn the tide of the battle.
Beta testers can also try out the new Survival mode. Two Rebel players will fight off waves of A.I. Imperial scum while also completing other objectives.
The third and final mode in Battlefront is the all-new Drop Zone. DICE hasn't announced any details on this match type yet but I can make an educated guess based on the name. I'm picturing a mode where orbital pods are dropping randomly across the map and players have to capture them before the enemy team - sort of like Crysis 3's Crash Site mode. We'll find out whether I'm right in a few weeks when DICE makes a full reveal of the mode, though.
During the beta, players will also get some hands-on time with the Star Wars Battlefront Companion. It sounds a bit like the Battlelog interface from the recent Battlefield series but with a card game layered on top:
The card game sounds like a way to slide some microtransactions into Battlefront. I wouldn't be shocked if DICE lets us buy Credits for cash. Parent company EA has long had a fondness for optional payments in their games.
Star Wars Battlefront's beta will kick off sometime in "early October." It's unclear at the present time how players will be invited but I'd imagine pre-orders will give guaranteed access. As is the case with most beta tests, player progress will be wiped before the full version of the game goes live.
Staff Writer at CinemaBlend.