Star Wars: The Old Republic Ability Delay Being Patched Today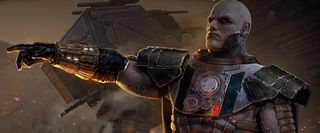 Today BioWare is rolling out Patch 1.1.0b for Star Wars: The Old Republic. The patch aims to fix a few persistent issues with the game, including poor performance in main player hubs and ability delay.
Ability delay is probably the worst of the game's current bugs. Players often experienced a long pause between pressing a button and its actual activation within the game. What made this problem even worse is that was more common in intense situations like Operations or Warzones.
The patch doesn't claim to completely eradicate the issue but it does "significantly" improve the delay. In a post on the SW:TOR website, principal lead combat designer Georg Zoller said they had identified three major causes of this lag. However, they're still investigating other "usability and quality of life improvements for responsiveness."
Update 1.1 for SW:TOR went live last Wednesday. It was the first major content update for the game since it launched in December. The patch brought a new four-player Flashpoint and expanded the Karagga's Palace Operation. A couple of today's fixes are also targeting problems with the latter.
The full patch notes for 1.1.0b are below.
General
Implemented optimizations to improve performance on Republic and Imperial Fleets.
Classes and Combat
Significantly improved the delay when activating player abilities, particularly when in lower framerate situations. This allows for improved ability responsiveness in hectic combat situations.
Operations
General
Operations will no longer allow more than 16 Operations Group members to enter concurrently.
Karagga's Palace
Operations Groups will no longer be forced to reset the Operation if the group wipes when attempting to defeat G4-B3 Heavy Fabricator.
Fixed an exploit that would allow players to repeatedly loot the chest after defeating Jarg and Sorno.
Miscellaneous Bug Fixes
Fixed an issue that could cause graphical inconsistencies, which most often manifested as random screen "flickering."
Staff Writer at CinemaBlend.
Your Daily Blend of Entertainment News
Thank you for signing up to CinemaBlend. You will receive a verification email shortly.
There was a problem. Please refresh the page and try again.