Star Wars: The Old Republic Going Free-To-Play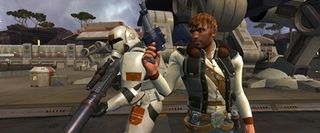 BioWare has decided to make Star Wars: The Old Republic subscriptions optional. They're going to convert the MMORPG to a free-to-play model this fall, less than a year after its launch.
"Players want flexibility and choice. The subscription-only model presented a major barrier for a lot of people who wanted to become part of The Old Republic universe," said Matthew Bromberg, BioWare Austin's general manager.
After buying a copy, players will be able to create characters using any of the eight character classes and rise to the max level of 50. There will be some restrictions on F2P users' access to new content and "advanced" features. Certain locked features will be opened up by purchasing Cartel Coins, a virtual currency purchased with real-world money. Cartel Coins will also allow players to buy custom gear and various conveniences.
If you were happy to pay a monthly subscription for SW:TOR up until this point, you're free to continuing doing so. Subscribers will have unfettered access to all of the game's content. Furthermore, you'll get a monthly allotment of Cartel Coins to spend as you wish. All in all, this is pretty much the same business model adopted by Lord of the Rings Online, Dungeons and Dragons Online, and several other formerly subscription-only MMORPGs.
BioWare says that they're going to release content updates more frequently as well. The next update is due in August. During that month, the game will go on sale for $14.99.
Old Republic launched in December of 2011 and accumulated over a million subscribers in its first three days. The peak subscriber base was around 1.7 million. However, since early 2012 the game has been slowly bleeding players. In May, EA reported that the roughly 400,000 players had quit. A switch to F2P has saved other MMO's, so perhaps it can help stop the bleeding for SW:TOR as well.
Your Daily Blend of Entertainment News
Staff Writer at CinemaBlend.
Your Daily Blend of Entertainment News
Thank you for signing up to CinemaBlend. You will receive a verification email shortly.
There was a problem. Please refresh the page and try again.