Star Wars: The Old Republic Now Available For Pre-Order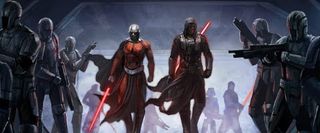 EA is now accepting pre-orders for the upcoming MMORPG Star Wars: The Old Republic. They're offering standard, digital deluxe, and collector's editions of the game.
All three editions will give pre-order customers early access to the game. The length of this early access period wasn't mentioned. Pre-order customers will also get a Color Stone, an item that allows you to modify your weapon's effect.
The Digital Deluxe Edition ($79.99) comes with the following in-game items:
Flare Gun: Fires flares into the air.
Training Droid: Hovers at your side for combat assistance.
HoloDancer: Project your own holographic dancer.
HoloCam: Keep visual records of in-game adventures.
STAP (Single Trooper Aerial Platform): Sleek and unique in-game vehicle.
The Collector's Edition ($149.99) has everything in the Digital Deluxe package as well as these bonuses:
The Journal of Master Gnost-Dural: 111 pages of notes and sketches by the revered Jedi Master from the early years of the Great Hyperspace War between the Galactic Republic and the Sith Empire. Features never-before-seen artwork and all-new information.
Darth Malgus statue: The villainous Darth Malgus comes to life with this exclusive 9 in. collectible statue from Gentle Giant studios.
The Old Republic Galaxy Map: 14 x 20 inch at-a-glance look at the known galaxy.
Security Authentication Key Fob: Keep your Lightsaber and credits safe with this custom Security Authentication Key Fob for your game account.
Music of Star Wars: The Old Republic CD: Seventeen orchestral music tracks from Star Wars: The Old Republic.
Star Wars: The Old Republic Game: The Star Wars: The Old Republic game on DVD-ROM in a collectible metal case.
Exclusive Mouse Droid: A faithful Droid to join you on your adventures.
Exclusive Collector's Edition Store: Unique in-game store with an array of items to assist you from your humble beginnings through your journey to become a galactic legend.
EA has decided to limit pre-orders for the game. If you're interested in reserving a copy, it'd be best to do it quickly.
Staff Writer at CinemaBlend.
Your Daily Blend of Entertainment News
Thank you for signing up to CinemaBlend. You will receive a verification email shortly.
There was a problem. Please refresh the page and try again.