Star Wars: The Old Republic Played For 60 Million Hours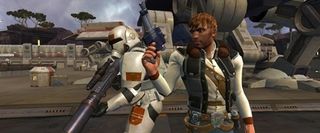 Now that Star Wars: The Old Republic's first week is over, BioWare and Electronic Arts have released additional gameplay stats for the MMORPG. During the holiday weekend, players spent over 5.5 million hours in the game.
In total over 60 million in-game hours have been logged by players. The press release says that this is equivalent to watching all six Star Wars films over 4 million times. I think watching the original three films 8 million times would be smarter but you get the point.
What's that, you want more crazy statistics? Well, here you go:
Over 850,000 Sith Warriors and over 810,000 Jedi Knights created
Over 260 million quests completed
Over 44 million PvP battles
Over 9 million space combat missions completed
Over 3 billion NPCs killed
The game appears to be selling well, too. Last week EA revealed that the game now has over one million players. No word on how many people joined up on or after Christmas - I imagine it was a popular gift.
Old Republic launched on December 20th in North America and Europe. It's available in standard, digital deluxe, and collector's editions. All three come with 30 days of free game time. After that, the game costs $14.99 per month, $41.97 for 3 months ($13.99 per month), or $77.94 for six months ($12.99 per month).
Staff Writer at CinemaBlend.
Your Daily Blend of Entertainment News
Thank you for signing up to CinemaBlend. You will receive a verification email shortly.
There was a problem. Please refresh the page and try again.