THQ Cancels Guillermo Del Toro's inSANE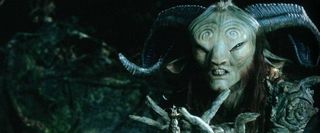 In a somewhat surprising bit of news, THQ has revealed that they will no longer support or publish the game inSANE from critically acclaimed movie director Guillermo Del Toro. What happened? No one knows, but there are a few guesses and the cancellation happened during THQ's conference call to investors.
According to Gaming Everything, THQ has backed out of supporting Del Toro's inSANE and the IP rights have reverted back to the movie director.
You might remember that inSANE was originally teased back at the Spike 2010 VGAs, not much was released about the game and since its announcement nothing was ever mentioned in any of THQ's forward-looking press releases. For all intents and purposes the game going black in the media circles seemed like a strong indication that it would likely get canceled.
For those of you unfamiliar with Guillermo Del Toro, take note that he's the man behind the Hellboy movies as well as the very popular Pan's Labyrinth film, as pictured above. Del Toro is well known for bringing monsters to life using a lot of practical effects. Gamers were definitely interested to see what the director would have accomplished with inSANE but we'll never know what that is under THQ's tutelage. Presumably the game is a horror-survival type.
I'm guessing maybe Square Enix will swoop in to pick up the license the way they did with Sleeping Dogs, or perhaps Electronic Arts in a bid to win over favor from the gaming community? Who knows?
We'll keep you posted if any publisher decides to pick up the publisher and distribution license.
Staff Writer at CinemaBlend.
Your Daily Blend of Entertainment News
Thank you for signing up to CinemaBlend. You will receive a verification email shortly.
There was a problem. Please refresh the page and try again.