Titanfall Frontier's Edge DLC Screenshots Released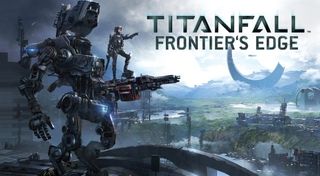 New screenshots have surfaced for Respawn Entertainment's first-person shooter mech-shooter, Titanfall. The new screenshots feature a look at the new Dig Site map that will accompany the Export and Haven maps.
The Dig Site screenshots depict a very dark and dreary map with close-quarters combat and plenty of moments to stealth through and pick off opponents where they least expect it.
As described in the map's description from a post on AllGamesBeta...
The map's tone takes on a bit of a Blacklight vibe as players will rummage about through the site, facing down against opponents as the refinery and heavy pipes work as a thick backdrop to the action taking place within the map.
There will also be buildings for pilots to jump into and off on throughout the map. The structures will work as prime points to pepper opponents with sniper fire from high above, while other players will take to the ground game and focus on squeezing out opponents using the mammoth mechanized armored warriors.
According to the post, the Dig Site isn't the only map that will be unveiled to gamers before the release of the new DLC pack. Respawn Entertainment has plans to let gamers in on the action that will take place on two other maps as well. These other two maps include Export and Haven.
No details were released on the other two maps, but Respawn did make it known that if you tune at some point throughout the day to watch the live-stream below you'll be able to see Export and Haven in action... eventually.
As for the Dig Site, you can check out the three new screenshots for one of the game's new maps that will be present in the new Frontier's Edge DLC pack, due for release on the Xbox One, the Xbox 360 and for PC below.
You can learn more about Titanfall by visiting the game's official website. The game is currently available right now for both Xbox consoles and PC. The game also managed to make the Best of list for the Xbox One.
Image 1 of 3
Image 2 of 3
Image 3 of 3
Staff Writer at CinemaBlend.
Your Daily Blend of Entertainment News
Thank you for signing up to CinemaBlend. You will receive a verification email shortly.
There was a problem. Please refresh the page and try again.