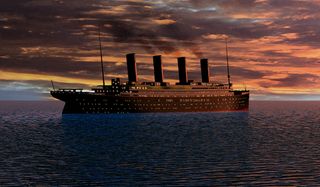 First-person adventure game Titanic: Honor and Glory will let players explore a virtual version of the doomed luxury liner. If they're not careful, they'll go down with the ship too.
The game begins in the city of Southampton, England, which the developers are also trying to faithfully recreate. The player character has been falsely accused of murder and on the run from the law. They stow away on the RMS Titanic as it heads out on its maiden voyage.
"Playing through all five days of the voyage talking to passengers, gathering clues, and unraveling a grand mystery all while trying not to get discovered, the hero, Mr. Robert Morgan, has no idea that his whole world is about to change," explains the game's Indiegogo page. "When Titanic collides with an iceberg in the middle of the North Atlantic, the player must race the rising waters to complete the mystery, prove his innocence, and, most importantly.... survive."
The development team is trying to recreate every single part of the Titanic along with many of its real passengers. Captain Edward John Smith and designer Thomas Andrews are among the people players will encounter. Rose and Jack won't be there, though.
You won't be able to dawdle too much during the campaign. The ship will sink in real-time while you try to solve the mystery. Fortunately, a free roam mode without any time limits or objectives will let players freely wander the Southampton and the ship.
Titanic: Honor and Glory is an ambitious project and unfortunately an expensive one, too. Their Indiegogo goal is set at $250,000 but the developers admit it's not enough to complete the game. They say that they'll need $950,000 at a minimum to finish the project. If they manage to raise $2 million, they may consider adding expansion packs and a live orchestra soundtrack to the game.
The team at Four Funnels Entertainment is developing Honor and Glory for PC in Unreal Engine 4. The game's FAQ says that other platforms are possible as well. The PC version of the game will support the Oculus Rift headset. The developers estimate Honor and Glory will be available in 2017.
I wouldn't personally give money to the project. The high budget, huge scope and relatively young team makes me nervous about the chances of this game delivering on its promises. Even experienced studios have had problems releasing their crowdfunded games on time so I'm especially wary of companies without a long track record.
Still, the premise sounds fantastic and I hope they can pull it off. I'd love to to be able to see the interior of the Titanic without watching a terrible movie. Another benefit of Four Funnels finishing the game is that we won't be drowned in a flood of "the game sank just like the ship!" jokes.
Image 1 of 3
Your Daily Blend of Entertainment News
Staff Writer at CinemaBlend.