Torchlight 2 Launches On PC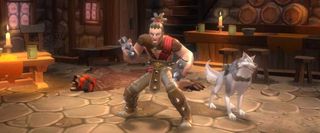 Today Runic Games released the long-awaited sequel to the 2009 action RPG Torchlight. Torchlight 2 can be purchased on the PC for $19.99.
The sequel has a much wider scope than the original. You're no longer confined to the tunnels below the town of Torchlight. Instead, you'll travel across a vast open world with numerous towns. The game world is still randomized so you'll find new surprises each time you play.
Runic Games addressed many common criticisms of Torchlight with this game. For starters, you can now play online with friends over LAN or the internet. Other improvements include deeper character customization and a more intuitive user interface.
The game avoids some of the controversial features of fellow action RPG Diablo 3. There's no always-on DRM so you won't need an active Internet connection to play single-player mode. Furthermore, there are no real-money item sales.
Shortly after release, Runic plans to release TorchED, a game editor. This will enable players to create their own Torchlight 2 mods and then share them with friends. The release date for this editor hasn't been announced yet.
You can get Torchlight 2 through Steam, GamersGate and other digital retailers. Steam is offering a "4-pack" that lets you buy four copies for you and your friends for $59.99.
Staff Writer at CinemaBlend.