Torment: Tides of Numenera Hits Kickstarter Goal In Six Hours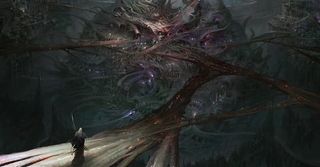 Torment: Tides of Numenera, an RPG billed as the spiritual successor to Planescape: Torment, has already reached its Kickstarter funding goal. In just six hours, gamers donated over $900,000 toward the game's development.
"Our heads are still spinning at the incredible response we have had from today's support of our Kickstarter campaign," developer inXile entertainment said on the game's Kickstarter page. "We had plans to roll out our stretch goals and to write our Kickstarter updates but never in our wildest dreams did we think we would fund this quickly!"
Tides of Numenera is a single-player, isometric RPG. The game is said to be heavily story-driven with a strong emphasis on player choices and dialogue. it's being developed for PC, Mac and Linux using the Unity engine.
Tides doesn't take place in the Dungeons & Dragons setting of Planescape. Instead, it's based on Planescape creator Monte Cook's new tabletop game Numenera. It's a world of fantasy, with "vasting and floating cities" as well as "moons of living flesh" according to the Kickstarter page. The world is littered with ancient relics imbued with magical powers.
The first preview video for Tides is below. You can read more about the project, or contribute some of your own money at Kickstarter.
Staff Writer at CinemaBlend.
Your Daily Blend of Entertainment News
Thank you for signing up to CinemaBlend. You will receive a verification email shortly.
There was a problem. Please refresh the page and try again.