Turtle Beach's Call Of Duty: Modern Warfare 3 Headsets Ship To Retailers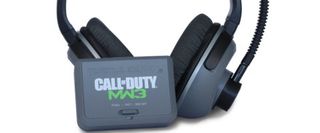 The highly anticipated cross-branded Turtle Beach Call of Duty: Modern Warfare 3 EarForce headsets are currently shipping out to retailers at this very moment. Gamers will soon be able to plop on some high-quality headsets as they ready to face-off against stiff competition in this year's Call of Duty outing.
As stated in the press release…
There are a range of different Modern Warfare 3 branded headsets from Turtle Beach, including wireless, wired, expensive and not-so-expensive sets. Each headset is fine-tuned to the price and features that are suited for varying types of gamers.
If you're willing to spend some big bucks, you may want to go with the EarForce Bravo for $179.95. If you're gaming on a budget and need something a little less feature rich and a little more attuned to your frugal spending habits, there is the EarForce Foxtrot for $99.95. Gamers who can afford to spend a little more to get a little more but not spend too much, can settle for the $129.95 EarForce Charlie.
You can grab more info and details on the Modern Warfare 3 headsets over at the Official Turtle Beach Website (opens in new tab). Call of Duty: Modern Warfare 3 is set for release on November 8th for major home consoles and mobile gaming devices.
Your Daily Blend of Entertainment News
Staff Writer at CinemaBlend.
Your Daily Blend of Entertainment News
Thank you for signing up to CinemaBlend. You will receive a verification email shortly.
There was a problem. Please refresh the page and try again.