Ubisoft Scales Back Driver San Francisco DRM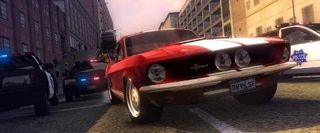 Ubisoft has heard your pleas for mercy, PC gamers. Weeks after announcing that Driver San Francisco would require a constant Internet connection, Ubisoft announced that they will be relaxing the DRM for the open-world driving game.
"We've heard your feedback regarding the permanent internet connection requirement for Driver and have made the decision to no longer include it," said Ubisoft on the game's official forums. "So this means that Driver PC gamers will only need to sign in at game launch but can subsequently choose to play the game offline."
The issue with requiring a constant internet connection is that it's very unfriendly to people with unstable connections, such as wireless. If your router craps out, you could potentially lose progress in the game. There's also the possibility that Ubisoft's authentication servers could go down and render gamers unable to play Driver altogether. Fortunately, Ubisoft has spared gamers from this annoying fate.
It's a bit surprising that Ubisoft decided to reverse their decision on Driver's DRM. Just last month they were bragging about how effective always-on DRM was, stating that it led to "a clear reduction in piracy." I wonder whether the new round of criticism that followed that statement forced Ubisoft to make a change.
Don't worry, though, PC gamers, you'll still have something to complain about. The PC version of Driver San Francisco is due on September 27th in North America, three weeks after it will debut on the Xbox 360, PS3, and Wii.
Your Daily Blend of Entertainment News
Staff Writer at CinemaBlend.
Your Daily Blend of Entertainment News
Thank you for signing up to CinemaBlend. You will receive a verification email shortly.
There was a problem. Please refresh the page and try again.