User-Rated, PS3 Compatibility List For PSOne And PS2 Games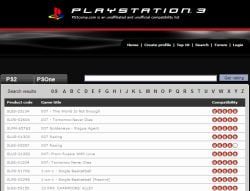 There's been lots of fussing and grumbling about what is, is not and may be backward-compatible with the PS3. Well, you can quit your whining, because a user-rated compatibility site just opened, detailing what works with each firmware update and whether you should be afraid if Gekido for the PSOne isn't compatible with your PS3.
Just kidding about that bit with Gekido...we all know the game sucked farts like no tomorrow. Still, there's 13, 000+ games spanning the libraries of the PSOne and PS2 that is dissected for compatibility with the PlayStation 3. And all of this, surprisingly, is based on "user experience", according to the press release.
"Since the beta release a month ago the site has already had 17.000 hits. That's great news for all us PS3-owners. It underlines the need for an impartial compatibility site. Everything else is letting the wolf guard the sheep", said Jesper Joensson, co-founder of Ps3comp.com. "Many use the site for checking changes in firmware compatibility. Newer firmware doesn't necessarily mean better compatibility, so before upgrading they make sure their games are as compatible with the new firmware version as the old."
I'll be dead honest with you: the site isn't all that and a bag of chips. However, the site is informative in regards to the functionality of specific games and how compatible they are for the PlayStation 3. Simple, crude and yet seemingly effective. And of course, you can visit the Official PS3Comp Site by clicking the link prior to the words you're reading right now.
Staff Writer at CinemaBlend.
Your Daily Blend of Entertainment News
Thank you for signing up to CinemaBlend. You will receive a verification email shortly.
There was a problem. Please refresh the page and try again.