Walking Dead Game Season 2 Will Feature Clementine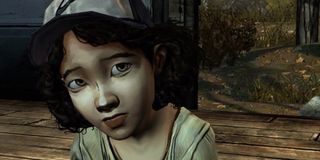 Telltale Games provided some early story details on Season 2 of their episodic The Walking Dead game. The developer promises that two major characters from the first season will be making a return.
Warning: This article contains major spoilers for both the first season of The Walking Dead and recent DLC 400 Days.
In Season One, players were introduced to Lee Everett, a college professor and convicted murderer. He becomes the unlikely guardian to a young girl named Clementine early on. His mentorship of Clementine was a big part of the season's storyline.
While Lee won't be returning because of his apparent death or zombification at the end of Season One, Telltale said at the panel (via IGN) that Clementine will be making a return. I doubt that surprises anyone that she'd appear in Season Two. Season 1 ended with a clear cliffhanger: she's walking through a field when she spots two mysterious figures in the distance. The credits begin before we can find out who they are. It's not clear how big of a role she'll play in S2, but Telltale at least needs to tell us how the rest of that scene played out.
What's more shocking, though, is that we'll find out Kenny's fate. Kenny threw himself in harm's way to save another character from walkers in Season One's last episode. The game seems to imply that he died but we never actually saw it happen. Could he have actually survived that altercation? Or will we encounter Zombie Kenny in Season Two?
Last month, Telltale released the downloadable content 400 Days. Instead of continuing the story of Season 1, this episode introduced several new characters. The episode concluded with some of these survivors joining a new community. Perhaps Clementine or Kenny will link up with this mysterious town.
Players may also encounter other familiar characters. During the Comic-Con panel, Telltale CEO Dan Connors was asked about whether we'll see additional cameos from comic book characters, such as Glenn's appearance in Season 1. Connors didn't confirm anything but said he's talking with series creator Robert Kirkman about what cameos would fit the story.
Telltale reiterated at the panel that your choices from both Season 1 and 400 Days will carry over into the second season, so be sure to hang onto those save files. While Season 1 had a few superficial decisions that made no difference in the end, Telltale's Kevin Bruner insisted that importing your old save file will have an important impact on Season Two. They wouldn't have bothered with the save-importing feature, otherwise.
Season 2 of Walking Dead will be debuting this fall alongside a fourth season of the TV show. The game will be launching on the same platforms as the first season: PS3, Xbox 360, PC, Mac and iOS. Vita gamers, who had to wait a lot longer for Season One, will get the new episodes at the same time as everyone else.
Staff Writer at CinemaBlend.
Your Daily Blend of Entertainment News
Thank you for signing up to CinemaBlend. You will receive a verification email shortly.
There was a problem. Please refresh the page and try again.