Walking Dead 400 Days Coming This Summer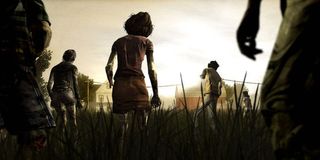 Telltale's Walking Dead adventure game will be continuing this summer. At the start of Sony's E3 press conference, CEO and President Jack Tretton announced that The Walking Dead: 400 Dead will be arriving in the coming months.
400 Days isn't Season Two of the game. Instead, it sounds like it will act as a bridge to that next season. Telltale hinted at such a release back in February.
The first season of The Walking Dead introduced Lee Everett, a college professor convicted of murder. After the zombie apocalypse begins, he finds himself fighting with survival along with a few others. He also becomes the unexpected guardian of Clementine, a young girl. As Lee, the players had to make a series of tough moral choices. These choices could result in the life or death of his fellow survivors.
Season One ended on a very ambiguous note. 400 Days might pick up right where it left off. The direction of Season Two should be a lot more apparent by the end. Or maybe it won't. Either way, 400 Days is more Walking Dead for us to play.
Telltale is preparing a Walking Dead bundle for PS Vita. It will include 400 Days along with the complete first season. Tretton also mentioned some bonus content, which could be behind-the-scenes footage. This will be the first time that Walking Dead will be available on the Vita.
Walking Dead's first season is available on PS3, Xbox 360, PC, Mac, and iOS. Presumably all of these platforms will receive 400 Days in time.
Image 1 of 4