War Of The Worlds Now Available For Xbox Live Arcade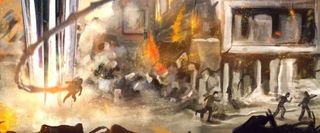 Other Ocean Interactive's old-school, platform-survival game, War of the Worlds, is currently available for the Xbox 360 on the Live Arcade. Gamers will trounce through a 1950s London in order to survive a deadly alien invasion.
Mike Mika, head of development with Other Ocean Interactive commented in the press release, saying…
I wouldn't say that it was "one of gaming's golden eras" so much as it was the Golden Era. Still, I'm glad a few developers out there have taken a liking to bringing gamers something more thought-provoking than Generic Shooter #343 with Generic Shaved-Head-Protagonist #187. I also especially like how the game makes it where the aliens are no-good, ruthless mofos who will kill you in one shot. This makes the gameplay especially intense considering that you have to run and dodge and jump for your life throughout the gameplay experience. In other words, this ain't Halo.
You can pick up War of the Worlds from the Xbox Live Marketplace for only 800 MS Points. If you're still not convinced this platform game made in the same vein as the original Prince of Persia, Fade to Black, Generations Lost, Out of this World or Flashback isn't right for you, be sure to visit the Official Website to get a better idea of what the game is like.
Staff Writer at CinemaBlend.
Your Daily Blend of Entertainment News
Thank you for signing up to CinemaBlend. You will receive a verification email shortly.
There was a problem. Please refresh the page and try again.