Warriors: Legends Of Troy Now Available For Xbox 360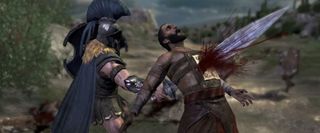 The game that puts players in the role of Greek and Trojan legends has finally arrived for Xbox 360 gamers. After meeting several delays and cancellations, Tecmo Koei has eventually released the title digitally for the Xbox 360 via Games On-Demand.
According to Empty Lifebar, the game has become available at the discounted $29.99 price point or 2400 MS Points, enabling gamers to experience some of the hard hitting action from this once-PS3 exclusive on the Xbox 360.
The game itself is very similar to every other Tecmo Koei title out there where you hack and slash your way through thousand-army scenarios. The main idea is that you take charge of one of the larger than life heroes of old and go around laying waste to any and everyone in your path.
The biggest difference between Warriors: Legends of Troy and Dynasty Warriors is that the weapon focus and combat mechanics directly relate to the old-school Greek fighting style, so you'll see less Eastern influences in the way the combat plays out and more of the over-the-top arena-style fighting that the Greeks were known for.
You can grab a digital copy of Warriors: Legends of Troy right now for the Xbox 360.
Staff Writer at CinemaBlend.
Your Daily Blend of Entertainment News
Thank you for signing up to CinemaBlend. You will receive a verification email shortly.
There was a problem. Please refresh the page and try again.