Watch 80 Minutes Of Mad Max Gameplay Footage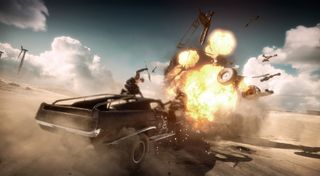 Mad Max has a tough road ahead of it, launching the exact same day as Kojima's final game for Konami, Metal Gear Solid V: The Phantom Pain. The hype is real. Nevertheless, Avalanche Studios has been doing their own hyping for Mad Max and that included a stream with 80 minutes worth of gameplay footage on display.
GamesHQMedia posted up the footage from the live-stream that featured director of narrative content, Odd Ahlgren, the senior designer Emil Kraftling and the lead character artist from Avalanche Studios, Kristofer Labedzki. You can check out the Mad Max footage below.
There's a ton of new features that Avalanche Studios revealed in the live-stream, including some new modes, customization features and the Death Runs.
They stress that you still need fuel to keep your car running in the world of Mad Max. Even if your car runs out of fuel it won't stop completely but it will move very, very slowly. The fuel aspect is to mimic the way fuel was such a previous resource in the movies and it's the same in the game. This also ensures that you will continue to stay in road battles as that will be one of the few ways to retrieve extra fuel, by disabling other cars and siphoning it from them.
Speaking of enemy vehicles, you can take enemy vehicles and either blow them up and retrieve the scrap parts from them, or you can drive them back to the nearest stronghold for bonus scrap material. Driving them back to the stronghold offers more material but it takes longer and takes you out of the way. So the choice is yours.
Additionally, there are also Death Runs in the game, which are races where you have to complete certain objectives against other AI opponents. You can pick from a pre-designed vehicle or you can use your own Magnum Opus to do the race. There's a bomb strapped to the back of the vehicle so there's a timer on how quickly you'll need to complete each race. The music during the Death Runs is pretty gnarly and very tribal; it sounds like a bit of a tribute to Australia's Maori culture.
You can also customize Max, from his clothes to his facial hair. Most of the clothing options actually affect his armor rating, allowing him to take more damage and survive more beatings. It's easy to die in the game and easy to get overwhelmed with multiple opponents, so you'll have to play it smart until you can upgrade Max to exercise Batman skills during battle. You can earn tokens to upgrade and unlock new abilities for Max, which can be applied when you go visit the local Shaman.
There are even some interesting traps outside of the vehicle that Max can use, such as the Bear traps. We briefly get to see those in action when one of the quests saw the titular road warrior scouring through caves for a character who can make bullets.
The game runs at 30fps for the PS4 and the Xbox One. It scales higher for PC, of course. And Avalanche Studios assured fans that PC was developed in-house and was not outsourced like Batman: Arkham Knight.
Mad Max is due for release on September 1st for the Xbox One, PS4 and PC.
Your Daily Blend of Entertainment News
Staff Writer at CinemaBlend.