Watch Tywin Lannister Become A Witcher 3 Character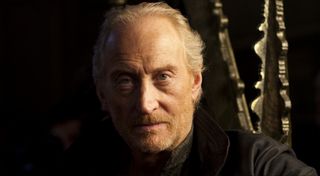 One of the popular characters from the HBO show Game of Thrones is lending his voice and acting expertise to the world of The Witcher. Charles Dance, better known as the conniving and devious Tywin Lannister from Game of Thrones, dons the voice-acting gig for one of the prominent characters in CD Projekt Red's The Witcher 3.
A new behind-the-scenes video was released featuring Dance doing some vocal work on the action-RPG, which you can check out below.
We don't get to see much of Dance's character, known as Emhyr Var Emreis. According to Dance, his character is an extremely powerful individual who is a man of few words. As Dance mentions, "he doesn't need to throw his weight around."
I think it's one of the few times where we actually see Emreis, as CD Projekt Red has kept a lot of the story and character elements present in The Witcher 3 close to their chest. While we do know that the game's main plot centers around a prophecy regarding a female Witcher named Ciri that Geralt helped teach and raise, we don't really know much more about the plot beyond that. There are obviously some more people out there looking to get a hold of Ciri and use her power to their own ends, but these other individuals are kept a mystery and obviously for the effect of leaving gamers to unravel the story when May 19th rolls around.
The Witcher 3 aims to advance the series with some new ways to engage in the combat, expanding on what was already present in The Witcher 2. The new game sports slightly faster combat, new magic attacks, new counter attacks and easier ways for newcomers and veterans alike to engage in the game's combat systems. Previous complaints from gamers railed on the difficulty of the combat in The Witcher, so we'll see how well people adapt when the game launches in the middle of May, next month.
As for Charles Dance taking on a role in video games... he admits it's his first time. He's also seeing how games, movies and other media diving deep into fantasy lore are starting to appeal more and more to older audiences. According to Dance...
It is impressive how some games look compared to what they were a decade ago. Back in 2005 games like Shadow of the Colossus, Battlefield 2, Resident Evil 4, Psychonauts, The Warriors and Star Wars: Battlefront 2 dominated the charts. Actually, come to think of it... 2005 had some of the best games ever released. Sony has still yet to top a first-party title that rivals the likes of Shadow of the Colossus, and both EA and DICE are hoping that their take on Star Wars: Battlefront is half as good as Pandemic's game from a decade ago.
Anyway, The Witcher 3 could end up being one of those games that a decade from now we look back on and relish with a great deal of respect, if it turns out to be as good as it looks. Once May 19th lands we'll see how well Charles Dance has transitioned from film to games and how good The Witcher 3 actually is. You can learn more about the game by paying a visit to the official website.
Your Daily Blend of Entertainment News
Staff Writer at CinemaBlend.
Your Daily Blend of Entertainment News
Thank you for signing up to CinemaBlend. You will receive a verification email shortly.
There was a problem. Please refresh the page and try again.