White PS4 Giveaway Announced By Taco Bell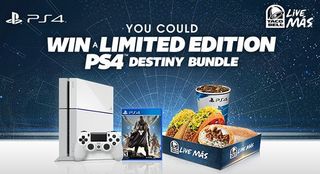 Taco Bell is teaming up with Sony for another PS4 giveaway. This time they're giving away the Limited Edition Destiny bundle with a white version of the PS4 to American gamers.
The white PS4 comes with one matching DualShock 4 controller, a copy of Destiny, and an Engram Gear Pack redeemable within the game. You can also give digital copies of Destiny and the Gear Pack to two friends thanks to vouchers inside the bundle.
You can get a code to enter a contest by purchasing a Big Box from participating Taco Bell restaurants in the United States. The Big Box includes a beef Quesarito, Doritos Locos taco, classic crunchy taco and medium fountain drink.
If Taco Bell grosses you out, you can get a code through alternate means. Visiting this link between November 6th and November 19th will earn you one entry code. You can also send a postcard to Taco Bell requesting a code.
"An eligible consumer must legibly hand write his/her full name (no initials), complete street address (no P.O. Box), age, and valid email address on a 3½" x 5" properly stamped postcard and mail it to: Taco Bell and PlayStation Game Code Request, P.O. Box 251328, West Bloomfield, MI 48325. Requests sent in an envelope will not be accepted. Mail-in requests must be postmarked by November 5, 2014 and received by November 12, 2014. Administrator will send one (1) Code by e-mail to the e-mail address provided on the request. Each entrant may obtain no more than one (1) Code per day (as determined by the postmark date on each postcard), and no more than twenty-eight (28) Codes in total, through this method of Code request.
"Multiple mail-in requests with the same postmark date will be deemed one (1) request. Mail-in requests will not be returned and no further correspondence will be entered into. Mail-in requests must be original and hand-written. No mechanical reproductions are allowed."
Once you have a code, you can text it to 87654 or enter it at WinPS4Bundle.com. While you can get multiple entry codes for the contest, you can only redeem one per day. You'll be notified whether you're a "potential winner" immediately after inputting your code. You'll then have to verify your eligibility for the contest before they'll send out your prize. Taco Bell says that you may have to wait up to 6 weeks for shipping.
This is the third PlayStation giveaway hosted by Taco Bell in as many years. Last year they handed out free PS4 bundles to celebrate that console's launch. In 2012, they gave away PlayStation Vitas.
The limited edition Destiny bundle is the first time the white PS4 has been sold in stores. Sony announced this summer that they'll sell the white PS4 separately in Europe as well. No such plans have been announced yet for North America.
Staff Writer at CinemaBlend.
Your Daily Blend of Entertainment News
Thank you for signing up to CinemaBlend. You will receive a verification email shortly.
There was a problem. Please refresh the page and try again.