PS4 Giveaway Announced By Taco Bell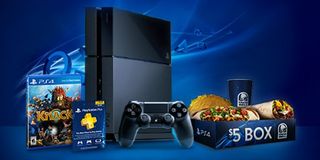 The PlayStation 4 will launch on November 15th in North America but Sony is giving gamers in the United States a chance to get the console early. They've joined forces with Taco Bell to give away thousands of free PS4's.
For a chance at winning a PS4 during this "Play the Future First" promotion, you have to order a $5 Buck Box at Taco Bell. This bundle includes a Crunchwrap, Crunchy Taco, Burrito Supreme and medium fountain drink. Also included is a code that you can use to enter the contest via text message or a website. If you're a winner, you'll receive an immediate notice telling you that there's a free PS4 coming to you.
Though Taco Bell doesn't hype it, you can get entry codes without purchasing as well. The official contest FAQ outlines how you can request codes online or via mail:
Mail-in Code Request. To receive a Code without making a purchase, from September 26, 2013 to October 28, 2013 eligible Entrants must legibly hand write his/her full name (no initials), complete street address, age, and valid e-mail address on a 3 ½" x 5" properly stamped postcard and mail it to: Taco Bell and PlayStation Play The Future First Instant Win Game Code Request, P.O. Box 251328, West Bloomfield, MI 48325. Requests sent in an envelope will not be accepted. Mail-in requests must be postmarked by October 28, 2013 and received by November 4, 2013. Administrator will send one (1) code by e-mail to the e-mail address provided on the request.
Online Code Request. From 12:00 AM (midnight) ET on October 29, 2013 to 11:59:59 PM ET on November 10, 2013, an eligible consumer must visit www.tacobell.com/winps4 and click on the link posted in the Official Rules and follow the onscreen instructions to obtain one (1) Online Code.
One winner will be selected every 15 minutes between today and November 10th. That means that Sony could be giving away about 4,320 prizes if my math is right. Each winner will receive a prize pack that includes a PS4, a year's subscription for premium membership service PlayStation Plus and a copy of launch game Knack. Knack, a PS4 exclusive, allows players to control a creature that can incorporate metal, ice and other substances into his body to gain new abilities.
The prize packs won't be sent out as soon as you win, though. Instead, they'll all be shipped out "on or around November 12th." There's a good chance you'll receive it before the console's official launch on November 15th but your early access will be short-lived. Getting a PS4 without spending $400 does sound pretty nice, though.
Hopefully this whole promotion goes smoother than the similar PlayStation Vita giveaway last year. During that promotion, a number of gamers were erroneously told they were winners. However, Taco Bell then told them weeks later that they weren't valid winners. The mix-up was blamed on outside tampering.
To protect themselves against any additional fraud with this contest, Taco Bell mentions in the contest's rules that the total number of prize packs won't exceed 4,416. Only one person per household can win and they can only enter once per day. I don't know that these measures will necessarily prevent tampering, though. Hopefully they've spruced up the automated system managing the contest, too.
Your Daily Blend of Entertainment News
Staff Writer at CinemaBlend.