Why This Fan Favorite League of Legends Champion Was Just Killed Off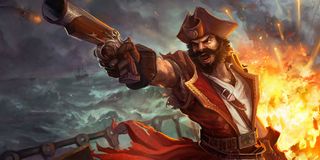 League of Legends is known the world over for its enormous selection of Champions that can be earned and/or purchased. And now, it looks like one has been killed off.
Killed off, as in totally removed from the game. VG247 is reporting that Gangplank has been killed off by his rival Miss Fortune, as part of the ongoing Bilgewater event.
Or so it seems, at least, but it's pretty far-fetched that Riot Games would even think about doing something like this to their customers, especially the loyal ones who have spent hundreds of their hard-earned dollars on skins and other premium options.
While many are quick to judge, it's likely just a part of the Bilgewater event that's going on right now and most certainly not a permanent thing. Making Gangplank available to players and then yanking him away just doesn't seem like a good move for consumers or Riot Games, especially when so much money passes through the hands of so many players.
Riot issued this official statement on the League of Legends forums addressing it in a very cheeky way:
"Champion death is unprecedented in League of Legends, and we do not take it lightly. We encourage all Gangplank fans to remain calm for a few days until we can fully assess the situation. At this time, we are not addressing refund requests for him or his skins but please know that over the next several days we'll do our best to make things right for everyone."
Obviously this means Gangplank isn't officially going anywhere, but it's definitely a new and interesting way to shake up the League of Legends lore. What if, on the off chance Gangplank were gone, what would happen? Would you be able to "exchange" him for another Champion? And would consumers be entitled to a refund if they were given a replacement?
League of Legends is filled with plenty of interesting and colorful characters, but this is definitely the first time anything like this has happened in the history of the game. Miss Fortune, however, is alive and well in the midst of all the festivities, and has a brand new skin for all her trouble. This is an awesome experiment and I'm hoping to see more like it coming from Riot in the future.
The Bilgewater event is a way for players to earn extra items, collectibles, skins, and more. If you're a faithful League of Legends player it's definitely something you might want to get involved with, especially if you're looking for something a little different with your MOBA. It's safe to say Heroes of the Storm hasn't tried this yet!
Your Daily Blend of Entertainment News