Witcher 3's Gwent Is Now Playable Without The Game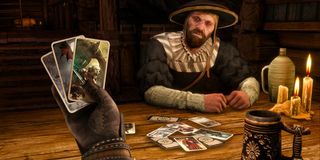 If you want to play Witcher 3's card game Gwent without starting up the RPG, there's another way to experience it. Fans have created a free Gwent mod for Tabletop Simulator.
"Grab a chair and a cold beer. It's time to get your deck out of your pants, slam it on the desk and show us your tactical skills and unique cards," says the description for the mod. "The kings may play with our lives outside of this desk. But here and only here, it's the kings lives that lie in our hands."
"Choose your side: fight for the Northern Realms as Foltest, make others bow to you as Emhyr var Emreis, send monsters to reap souls as the King of the Wild Hunt or stand for your freedom as Scoia'tael leader Enid an Gleanna."
The mod doesn't look as spiffy as Witcher 3 but there's enough decoration to convince you that you're playing in a medieval inn. There are also some nice visual touches here and there, like using an Oren for the initial coin flip.
In Gwent, each player has a deck of cards with different units and abilities. Each card contributes to that player's total points for the round. The player with more points when they run out of cards is the winner of the round.
While this mod lets you play Gwent, it's not the complete experience. In Witcher 3, you have to travel across the world to find new opponents and gather new cards for your collection. You're missing out on that Pokemon-like journey by just playing the Tabletop Simulator mod.
CD Projekt RED, the developers of The Witcher 3, doesn't seem to have commented on the mod yet. I suspect that they're cool with it, though. The studio's always taken a lax approach toward piracy of their games - or games sold through their new platform GOG Galaxy. As such, I doubt a free mod about a narrow portion of their game would draw their ire. After all, prioritizing good will over DRM seems to be working out for them.
Staff Writer at CinemaBlend.
Your Daily Blend of Entertainment News
Thank you for signing up to CinemaBlend. You will receive a verification email shortly.
There was a problem. Please refresh the page and try again.