Witcher 3 Hearts Of Stone Is Great Except For That Ending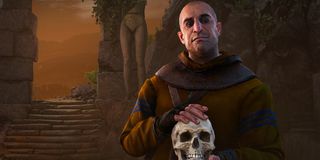 The Witcher 3's first expansion Hearts of Stone is one of the rare DLC packs that's actually worth its price tag. It's a shame about the ending, though.
Warning: significant plot spoilers for Hearts of Stone ahead
In the central quest line for Hearts of Stone, Geralt is forced to help the Man of Glass (aka Gaunter O'Dimm) fulfill three wishes for bandit leader Olgierd von Everec. While performing these tasks, Geralt slowly learns that the Man of Glass has a sinister motive for giving Olgierd what he wants. Once the wishes are fulfilled, the Man of Glass will be able to take his soul.
Olgierd thinks he's safe from the Man of Glass collecting on the pact because they need to be "standing on the moon" to complete their agreement. However, the Man of Glass tricks him into visiting a temple with a moon design on the ground - thereby fulfilling the contract. At this point, Geralt can either let the Man of Glass take Olgierd's soul or stop him by challenging him to a game of his choosing. If the Man of Glass wins, he can take Olgierd's and Geralt's soul. If Geralt wins, he and Olgierd are freed.
The Man of Glass' game turns out to be an interesting one. He whisks Geralt away to a hellish landscape filled with monsters. Geralt has to find the Man of Glass before the timer runs out, with his only clue being a complicated riddle.
The general setup is great here. This twisted world definitely an interesting backdrop for a final encounter. I like how the Man of Glass toys with us, too. He conjures illusions, like our friend Shani dangling from a cliff, to lead us astray and make us waste precious time. The landscape is also littered with other objects that could potentially solve the riddle.
While the ticking clock adds tension to the experience, it almost ensures that everyone's going to have to play through this section at least twice. The Witcher 3 players are conditioned at this point to check every clue so they'll eat up most of the clock on their first attempt by exploring the various red herrings of this wasteland. They'll then run out of time before they get to the house at the end where they finally solve the riddle. Then, for their second attempt, they'll just race past everything in the wasteland and get to the end so they can solve the puzzle.
This is far from the first time a game has asked players to learn from trial and error. Racing past enemies and clues alike on my second play-through of this level felt counter to the spirit of the game, though. The sequence essentially punishes you for exploring and fighting, the two main activities of the game up until this point.
Once you've solved the riddle, the victory isn't all that satisfying. The Man of Glass, looking more demonic than usual, blubbers at you in some language you can't understand, golf claps, and then disappears. I get that CD Projekt doesn't want us to be able to fight him and slay him. He's a great villain who I look forward to encountering again in another expansion or maybe even Witcher 4. Still, couldn't we at least get some feeling of triumph? At least make him say his little "you haven't seen the last of me!" speech in a language we can comprehend.
Hearts of Stone really is a great expansion. The quests gave us a little bit of everything: a wedding, a heist, a dungeon crawl and a trip through a haunted house. Olgierd and Man of Glass were well-written, well-acted characters that made the story all the more engaging. I appreciated all the new side activities CD Projekt sprinkled through the open world, too, to encourage us to keep exploring the wilderness. You're getting a lot of extra hours from the game for your money. The final chapter just didn't live up to its potential, though.
Staff Writer at CinemaBlend.
Your Daily Blend of Entertainment News
Thank you for signing up to CinemaBlend. You will receive a verification email shortly.
There was a problem. Please refresh the page and try again.