Witcher 3 Hearts Of Stone Now Available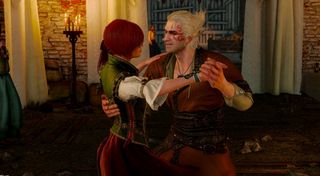 CD Projekt Red's Hearts of Stone expansion pack for The Witcher 3 has officially gone live. The expansion pack brings a ton of new content to the table for home console owners and PC gamers for the lowly price of only $9.99, which is usually the cost of a skin pack for guns in an AAA first-person shooter.
The expansion pack is absolutely massive, offering gamers more than 10 hours of brand new content and adventures to explore. Players assume the role of Geralt of Rivia once again as he's hired to take down a bandit captain known as Olgierd von Everec. Sounds pretty simple right? How can a bandit captain be a threat to the renown Witcher and monster hunter, Geralt? Well, things fall in favor of Olgierd because he's like a Highlander and is seemingly immortal. That evens the odds, wouldn't you say?
There is a plethora of new content that CD Projekt jammed into The Witcher 3's newest expansion pack, including brand new monsters to face off against, an all new romance angle for Geralt to pursue, as well as new storyline choices that are shaped by the decisions you make throughout the game. CD Projekt really went over and beyond with The Witcher 3 and its expansion packs, jamming in more content than most gamers know what to do with.
They also added some new Gwent cards, so for those of you out there who really like playing that mini-card game there are more options and cards available to indulge your side-questing nature.
The game's user reviews on the Steam store are already packed to the brim with positivity and support. There are only two "helpful" reviews that are negative and one of them complains about the game being boring, the other makes no sense contextually. So technically, there's only one real negative review of Hearts of Stone and it's basically that the story and missions are boring.
Everyone else seems to really love the new expansion and they mention that the price completely blows all the other competitors out of the water. Most users with an in-depth review note that CD Projekt Red's DLC offers more for $9.99 than what most full games offer for $60. It is true that a 10 hour RPG experience for $9.99 is more than what a lot of $60 games offer for their play-time, especially when you consider that the average Call of Duty campaign is only four hours and has no customization or alternate routes, unless it's the Black Ops series.
In addition to this, the combat has also been vastly expanded, with senior gameplay designer Marcin Janiszewski explaining over on the PlayStation blog that the new runes and glyphs add a ton of new options and customization to the combat. Players now have more counter-attacks, counter-magic, wards, defensive and offensive abilities at their disposal.
The entire post from Janiszewski is extremely detailed and gives you a thorough look at what new features have been added to The Witcher 3 in the expansion and how the combat has been greatly altered to reflect those changes.
You can grab Hearts of Stone for the PC, PS4 and Xbox One for only $9.99.
Staff Writer at CinemaBlend.
Your Daily Blend of Entertainment News
Thank you for signing up to CinemaBlend. You will receive a verification email shortly.
There was a problem. Please refresh the page and try again.