Witcher 3 Hearts Of Stone Launch Trailer Introduces A New Villain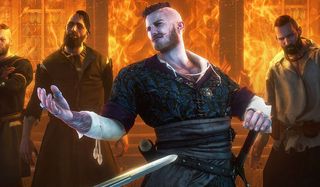 CD Projekt RED has released a full-length trailer for The Witcher 3: Hearts of Stone. The two-minute video sets up the story for the expansion pack and introduces the new villain you'll be facing.
The main villain is a bandit captain, which doesn't sound very intimidating. I mean, if you've finished Witcher 3, you've killed a few thousand bandits. However, this particular captain can't be killed. Here's the official story description from CD Projekt RED:
The trailer actually makes Olgierd into a fairly sympathetic character, though. It seems his immortality is actually a curse cast on him by an unknown party. I wouldn't be surprised if Geralt ultimately helps him remove the curse - or at least gets the option to do so.
CD Projekt RED said in the past that Hearts of Stone would add more romance to the game. This trailer shows us just what they meant. At one point, we see Geralt dancing with the redhead Shani. She was a love interest of Geralt in the first Witcher but never appeared in the subsequent games. I'm sure many long-time series fans will appreciate the reunion.
Hearts of Stone will also provide new combat challenges for players. The quests are tuned for players level 30 and above and will pit you against new types of enemies. Players will also have to master a new mechanic called Runewords that provide new strategic advantages.
The expansion pack is said to include over 10 hours of content. That estimate might be skewed a bit by side content (the expansion's said to have new Gwent cards for players to earn) but even so it sounds like a sizable adventure. Hopefully it's enough to tide players over until Blood and Wine, an expansion pack arriving in early 2016 with over 20 hours of gameplay.
Hearts can be purchased for $9.99 on October 13 by itself or as part of a bundle with Blood and Wine for $25. Boxed copies of Hearts of Stone are priced at $20 and come with two Gwent decks in addition to the DLC.
Staff Writer at CinemaBlend.
Your Daily Blend of Entertainment News
Thank you for signing up to CinemaBlend. You will receive a verification email shortly.
There was a problem. Please refresh the page and try again.