The Witcher 3 Hearts Of Stone's Release Date And Length Confirmed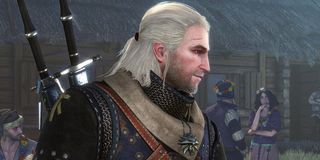 The Witcher 3's first expansion pack Hearts of Stone will be arriving next month, CD Projekt RED confirmed today. The studio also revealed a lot of other important details about the DLC.
We learned today that Hearts of Stone pits Geralt against an immortal bandit. Here's CD Projekt's description of the adventure:
The developer previously revealed that Geralt will be hired by the Man of Glass, a mysterious figure who you encountered briefly in the main campaign. We also know that the quests will take us to Velen and Oxenfurt.
Hearts of Stone's new storyline will give players "over 10 hours" of entertainment. Like the base game, the story will be driven by player choice. The press release also mentions "unique romance," though it's unclear whether they're talking about a brand-new love interest or an extension of the existing romances in the game.
The expansion will add a new strategic element to the mix as well: Runewords. Each Runeword affects the in-game mechanics in some way, though it's not clear how. CD Projekt merely says that they'll "allow the players to experiment with various strategies and tactics."
CD Projekt's community manager Marcin Momot confirmed on Twitter that the expansion can be played during or after the campaign. The quests are level 30+, though. They'll scale up if you're playing New Game Plus mode.
Hearts is one of two expansion packs planned for Witcher 3. The second, Blood and Wine, takes players to a new region of Toussaint to investigate "an ancient, bloody secret." Blood will offer 20+ hours of gameplay but won't be out until early 2016.
You can get access to both DLC packs by purchasing the $25 Expansion Pass (opens in new tab). However, CD Projekt is also releasing boxed copies of the expansions to stores. The limited edition Hearts of Stone package is priced at $20 and comes with two physical Gwent decks and an instruction manual for the card game in addition to a download code for the expansion.
Staff Writer at CinemaBlend.
Your Daily Blend of Entertainment News
Thank you for signing up to CinemaBlend. You will receive a verification email shortly.
There was a problem. Please refresh the page and try again.