The Witcher 3 Running 900p, 30fps On Xbox One, 1080p At 30fps On PS4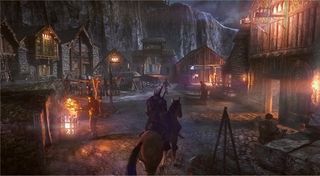 It's not final and these numbers could change, but for now CD Projekt RED has confirmed to Eurogamer that The Witcher 3 is running 900p at 30 frames per second on the Xbox One and 1080p at 30 frames per second on the PS4.
Eurogamer [via DSO Gaming] conducted an interview with John Mamais, the executive producer for The Witcher 3, where he explains that the game was running in real-time during Microsoft's E3 2014 stage conferences.
Not only was the game running in real-time but the game was running 1600 x 900p at 30 frames per second on the Xbox One... in real-time. No Nvidia GTX Titans powering the game from underneath a little cabinet.
According to Mamais...
But what about the PlayStation 4? Well, previously – back when "insiders" had some measure of leverage in the industry – Shinobi had mentioned that The Witcher 3 was targeting 1080p at 30fps on both the PS4 and Xbox One, but at the time mentioned that it was 900p on the PS4 and 720p on the Xbox One.
If that claim was true then CD Projekt RED has been hard at work upgrading the game to the expected full HD standard of native 1080p on the PlayStation 4. But the PS4 isn't the only one they're targeting for 1080p, with Mamais saying...
One of the drawbacks (depending on how you look at it) is that CD Projekt RED hasn't made use of the new June XDK to maximize the 10% extra processing power by disabling Kinect. Why? Because The Witcher 3 uses Kinect voice-integration to enable players to call out magic spells from the comfort of their couch. I think that's an inventive way to micromanage Geralt's skills while focusing on his melee attacks and potions.
The downside is that if the team makes use of skeletal tracking they won't be able to utilize the 10% graphics processing power for The Witcher 3. The upside is that, for now, the game is only aimed at using the Kinect's voice recognition. Nevertheless, the game is still heavy in development, so anything is possible.
Mamais further stated that...
The game is far from finished, and right now they're targeting the equivalent of the PC 'High' settings for the PS4 and Xbox One. Those who have high-end gaming rigs will be able to run the game on the 'Ultra' settings. Hopefully we don't have another Watch Dogs scenario on our hands where the PC gets held back in favor of consoles.
The Witcher 3 is due for release on home consoles and PC on February 24th, 2015.
Staff Writer at CinemaBlend.
Your Daily Blend of Entertainment News
Thank you for signing up to CinemaBlend. You will receive a verification email shortly.
There was a problem. Please refresh the page and try again.