Watch Dogs Is 900p On Xbox One, 1080p On PS4?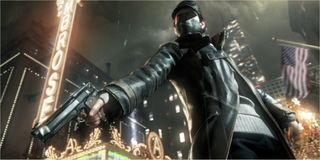 There have been rumblings since October that Ubisoft's team was having a hard time getting Watch Dogs running up to par for the expectations on the new-gen systems. Previously it was thought that Ubisoft delayed Watch Dogs because it was failing to hit decent performance levels on the Xbox One, as there were issues with the eSRAM. Hence, the game was confirmed some time ago, according to MCVUK, that Ubisoft was aiming for a steady and stable 30fps, but what we didn't know is what resolution the game would be running at.
I'm not entirely keen on floating rumors around, but this rumor has been floating for a while and a supposed insider who contributes to Pixel Enemy took to Twitter to state the following, as captured by Gamepur...
Shinobi602 doesn't seem to have good luck with moderators at various sites, though, and has been seemingly banned from places like Reddit and NeoGaf, for whatever that's worth.
Anyway, this should be taken with a grain of salt until Ubisoft chimes in with an official announcement on the resolution for Watch Dogs. Even if this "leak" seems likely, it's always best to have a dev chime in as well.
Still, though, there have been so many previous leaks about the Xbox One's resolution that have come true that it's hard to deny this bit of info. Although, I would have to say that the game running at 900p on the Xbox One is at least a massive step up from Metal Gear Solid V: Ground Zeroes running at a paltry 720p on the Xbox One. By comparison, the PS4 rocking native 1080p is a great sign for the console and shows some measure of scalability for open world titles, which should bring some comfort to gamers who invest in these game consoles for the long haul.
Shinobi602 also had this additional bit to share...
Hmm, interesting.
Previously, CD Projekt Red's Marcin Iwinski stated that there wouldn't be huge differences between the two consoles when running The Witcher 3, but he didn't really clarify what those differences would be. It's possible that the biggest difference will be the resolution, perhaps?
Now based on what Rebellion Games stated about the Xbox One not hitting 1080p and Thuway claiming that the Xbox One wouldn't be able to hit 1080p in comparison to the PS4, I'm willing to bet that this leak for Watch Dogs carries a bit of significance.
I guess we'll find out soon enough.
Your Daily Blend of Entertainment News
Staff Writer at CinemaBlend.