E3 2014: The Witcher 3 Wild Hunt Release Date Set With New Trailer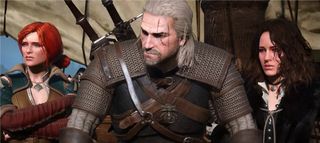 CD Projekt RED just released the official E3 2014 trailer for The Witcher 3: Wild Hunt and the subtitle of the trailer is "Sword of Destiny". It features an explosive situation for Geralt of Rivia as he battles to save a mystery woman from a group following her labeled as the "Wild hunt". The game is also set to release on February 24th in 2015 for home consoles and PC.
The trailer absolutely blows me away. It's an impeccable piece of technological wonder and it amazes me just how talented CD Projekt RED really is.
I mean we give a lot of props to Crytek for the CryEngine; plenty of love to Epic for the Unreal Engine 4; mad nods to Unity Technology for the Unity Engine and lots of bowing down and weeping whenever a new iteration of the Frostbite is showcased to the public, but I really think that we've been undercutting the marvel that is the RED Engine.
What we have with The Witcher 3 is not some E3 2012 trailer that the game can never live up to, or some fanciful CGI fest from 2007 that a certain sequel will forever be measured against, instead we have actual gameplay footage from the actual game engine with actual in-engine cinematics and in-game mechanics on display. I love it.
This, folks, is next-gen.
The blend between the story segments setting up Geralt's adventures fused with his always-wondrous swordplay just helped tie the whole thing together like some sort of Hollywood blockbuster, without actually being a lame Hollywood blockbuster. The environments look visually delectable and the character animations are so freaking smooth. It's just so beautiful. I honestly can't wait to see more.
Gamers desiderating the advent of true eighth-gen gaming are getting a nice taste of it here with The Witcher 3. CD Projekt had previously mentioned that cross-gen support was off the table and that they would be focusing dearly on getting the game to look and run its best on current day hardware. Thank you CD Projekt RED for embracing eighth-gen gaming and not trying to get your game engine to push the wheelchair of seventh-gen gaming into 2015.
Another thing worth noting is the traveling; the company has mentioned that they are now giving gamers two new ways to explore the game world, including diving under the water to explore ocean's home beneath the air, as well as boats to travel from one destination to the next, all while fighting against the waves and taking in a very expansive and thoroughly breathtaking world.
Seriously, it's just hard to escape the notions of awe that were inculcated from that E3 trailer above. Just wow. That was so much better than what I was expecting.
You can look to learn more about The Witcher 3: Wild Hunt come E3 next week. The game's official release date has been set for February 24th, 2015 for the Xbox One, PS4 and PC. You can pay a visit to the game's official website to learn more about the game.
Your Daily Blend of Entertainment News
Staff Writer at CinemaBlend.