The Witcher Series Sells 4 Million Copies Across Xbox 360, PC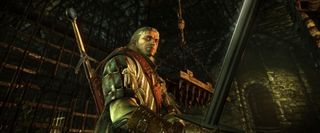 CD Projekt RED has announced that The Witcher, the mature-themed RPG featuring Geralt of Rivia from the Andrzej Sapkowski novels, has managed to sell more than four million copies across both the Xbox 360 and PC.
The Witcher 2 has moved close to 750,000 retail copies alone on PC and the Xbox 360 version has moved an estimated 450,000 at retail. The original game managed well over a million copies on PC and both The Witcher and The Witcher 2 have moved enough digital copies to help push the series over the four million mark.
Adam Badowski, head of CD Projekt RED studio commented in the press release about the stats, saying...
The series became renown for its complex decision making and moral system where "right" choices aren't necessarily always good choices. Players are left to their own devices to choose the way the story plays out and this is combined with a very complex combat system that utilizes Geralt's fancy weapon-fighting mechanics, as well as a thoroughly needed magic system that Geralt must utilize in order to defeat some foes.
The franchise maintained popularity for not only its difficulty and complex storytelling system, but also for its mature themes, which were not skimmed over throughout both The Witcher and The Witcher 2.
In addition to the games actually finding a nice niche audience, CD Projekt RED has become popular for a whole different reason: anti-DRM.
CD Projekt and their subsidiary Good Old Games, do not utilize DRM measures on their games. They've taken a stance to promote a healthy relationship between gamer and developer and in turn gamers are coming around to seeing them as the White Knights of the gaming industry, alongside Valve.
CD Projekt RED is currently working on their own rendition of Mike Pondsmith's Cyberpunk, which will be a futuristic, cyber-punk RPG. I'm sure a lot of gamers can't wait.
You can learn more about CD Projekt RED by paying a visit to their Official Website.
Your Daily Blend of Entertainment News
Staff Writer at CinemaBlend.