World Of Warcraft Patch 6.1 Introduces Racing Mini-game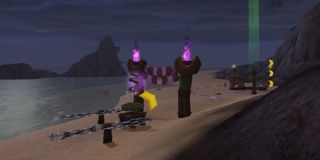 After 10 years on the scene, it's only natural that a game like World of Warcrat would evolve. Even so, color us a little shocked to learn that the game's most recent evolution will include a racing mini-game for players to enjoy. And it actually looks pretty fun, too!
This news comes to us from Kotaku, who recently stumbled upon a Youtube clip showing off the game's latest patch (6.1) in action. Or, more specifically, it shows off that racing mini-game we were just talking about.
Youtuber zetzek is one of the players taking part in the public test realm for the upcoming patch for World of Warcraft. While we already knew that this patch will allow players to take selfies within the game world, zetzek points out that a new racing game has been added to Darkmoon Faire Island. It's in its early stages but, for the most part, it looks like a goofy new way to waste some time when you're not too busy going out on quests and collecting loot.
Based on zetzek's video, it looks like the racing game will feature random obstacles and usable boosters of a sort, similar to what you might find in a toned-down version of Mario Kart. The races themselves have you making a dash to a checkpoint and back again, making sure to guide your mount through flags along the way.
So while not everyone received those sweet-looking commemorative WoW statues for 10 years of dedication to the game, all comers will at least be able to celebrate a decade of MMO goodness by riding around on an adorable lizard, doing their best to avoid lightening traps in order to shave a few seconds off of their time.
To me, this is mostly interesting because of the "evolution" of World of Warcraft I referenced in the opening. The team at Blizzard is great at taking something players enjoy and finding ways of making it even better. I see this as the ground floor for a spiffy racing experience within WoW itself. If fans seem to enjoy it, maybe an enhanced version will make its way into future updates, fine-tuning the mechanics and maybe even creating multiplayer events. For now, though, I'd say this is a good start.
But what about you, dear readers? Now that WoW is getting a racing mini-game, what other additions would you like to see added into the game? As Blizzard has proven, the sky is literally the limit; no idea is too goofy. So what would your ideal Warcraft offer as a fun distraction?
Your Daily Blend of Entertainment News
Staff Writer for CinemaBlend.