Worms And Alien Breed Games Go On Sale For Xbox 360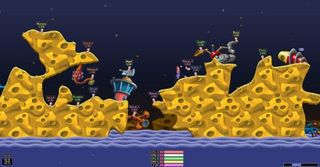 Team17 has announced a price reduction on several of its games for the Xbox 360, including titles from the Worms series, as well as Alien Breed. If you're looking for some multiplayer mayhem or top-down shooting action to carry you into the summer months, then there's probably something here to tickle your fancy.
It's always a good time for a games sale, especially if that "sale" appears to be a permanent price reduction on some spiffy arcade titles. Team17 appears to be of the same mind, as they've announced discounts on games from a pair of their series starting today on the Xbox 360.
First up are a pair of games for the Worms series, including Worms 2: Armageddon and Worms: Ultimate Mayham. Armageddon is being marked down from 800 MSP to just 400 MSP. Mayhem's former price of 1200 MSP is now set at 800 MSP.
In the Worms games, players control a small army of, appropriately enough, worms. Players take turns moving one of their wiggly commandos around destructible maps while avoiding hazards and pummeling their opponents with all manner of bizarre weaponry. We're talking everything from machine guns and dynamite to flying sheep and holy hand grenades. The Worms games are a decent time waster solo, but they can become one of the best party games you've ever played if you get a good group of friends together to enjoy the goofy warfare.
Finally, the entire Alien Breed trilogy is also on sale, including Episode 1, Alien Breed 2: Assault and Alien Breed 3: Descent. Run around spaceships and outposts destroying countless hordes of alien baddies in this top-down shooter series for 400 MSP a pop (formerly 800 MSP).
Your Daily Blend of Entertainment News
Staff Writer for CinemaBlend.