XCOM: Enemy Unknown Takes Series Back To Strategy Roots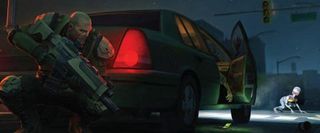 Were you upset that 2K Marin's XCOM game is a shooter? Well, you no longer have any cause for complaint. It seems that Civilization developer Firaxis Games is creating XCOM: Enemy Unknown, which will be a truer successor to the strategy series.
Enemy Unknown will be the cover story for next month's Game Informer. GI says that the game is a "full-on strategy game." Players control the worldwide operations of an anti-alien defense force. They must identify extraterrestrial threats, cope with anxious national leaders, and more. When XCOM agents are sent to combat aliens, players control them in turn-based battles.
"It's been a dream of ours to recreate X-COM with our unique creative vision. We're huge fans of the original game and it's a once in a lifetime opportunity to re-envision a game that is as beloved as X-COM," Steve Martin, president of Firaxis Games, told GI. "We were careful to keep XCOM: Enemy Unknown true to the elements that made X-COM such a revered game while delivering an entirely new story and gameplay experience for both die-hard X-COM fans and newcomers to the franchise."
Enemy Unknown is slated for a fall release. It's in development for the PS3, Xbox 360 and PC. This game will be the first XCOM strategy to be released simultaneously for the PC and consoles.
The story on Enemy Unknown will be in the February issue of GI. The cover art for the issue, below, offers the first look at this game.
Image 1 of 2
Image 2 of 2
Staff Writer at CinemaBlend.
Your Daily Blend of Entertainment News
Thank you for signing up to CinemaBlend. You will receive a verification email shortly.
There was a problem. Please refresh the page and try again.