Xbox Live Avatars Cowboy Up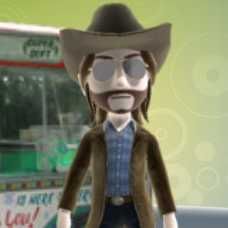 Microsoft released some new clothing for your Xbox Live Avatars today. This clothing pack's got a Wild West theme and adds five new articles of clothing for both female and male avatars. Here's the list of what'll be sitting in your virtual closet once you log onto Xbox Live:
Male
Black Cowboy Hat
Black Trench Coat
Western Duster
Rodeo Jeans
Cowboy Boots
Female
Rhinestone Cowgirl Hat
Cowgirl Shirt
Denim Skirt
Dungarees
Cowgirl Boots
As with all Xbox Live Avatar clothing update, this is completely free. Off the top of my head, I can't think of any big game release or event that the clothing would be commemorating. Biker clothing, for example, was added to coincide with the release of GTA IV: The Lost and Damned, which starred a motorcycle gang.
Your Daily Blend of Entertainment News
Staff Writer at CinemaBlend.