Xbox One Dev Kits Hard To Gain Access To For Indies, Says Compulsion Games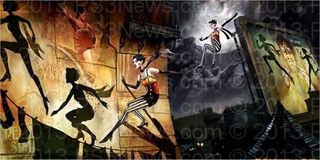 The upcoming title Contrast – one of the many cool looking games that were showcased during E3 for the PlayStation 4 – won't be coming to the Xbox One anytime soon. The reason why? The developers don't have XB1 dev kits and, of course, they aren't able to self-publish on Microsoft's system.
Speaking with GamingBolt, Compulsion Games' Sam Abbott talked about the game's release on upcoming systems and why Microsoft's stance on independent development curtails growth...
Microsoft is doing things the complete opposite of their competition, where Sony was handing out dev kits to indie developers and Nintendo is also championing to bring in more independent developers as well, in hopes of scoring exclusive content from smaller studios.
Compulsion Games isn't the only independent developer feeling the heat of Microsoft's policies. Lorne Lanning from Oddworld Inhabitants is also not keen on what Microsoft is doing with their new console, saying that everyone on the Xbox One marketing team should be fired. This is the complete opposite of how most developers feel about Sony and Nintendo right now, where they seem to have nothing but praises to shower on Microsoft's competition.
Abbott, however, believes that Microsoft simply needs to get more involved with the growth of the community and the expansion of the indie ecosystem, saying...
While some people may not feel that indie gaming is as important as the AAA giants like Destiny and Titanfall, the indie community caters to actual gamers and not just the placation of blockbuster experiences. Diverse gameplay concepts and originality is what you'll find in the indie community and it's only growing.
Even though Microsoft has a few safe bets in big budget titles for the early goings of the Xbox One, it's going to look rather thin in between without lower and mid-budget games to fill out the gaps in between the Titanfalls and The Division type games. Right now, Sony and Nintendo have acquired enough support for the next two years to ensure that even when they don't have an AAA release on the horizon they'll still plenty of smaller titles to fill in the pockets.
Allegedly, Microsoft will address their indie developer policies sometime soon.
Staff Writer at CinemaBlend.
Your Daily Blend of Entertainment News
Thank you for signing up to CinemaBlend. You will receive a verification email shortly.
There was a problem. Please refresh the page and try again.