Xbox One's EPIX App Makes Watching TV On Your TV Easier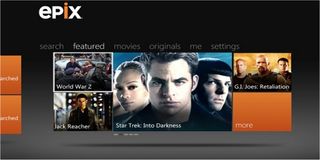 Everyone who put $500 into the coffers of the Micro 'S's pockets was doing so because they believed in a future of an all-in-one media entertainment device; they believed in a true revolution of being able to watch TV on your TV by paying for a box that allows you to watch the digital television programming that you already pay for through your $500 box.
It's such a remarkable thing to be able to report that Microsoft is elevating the level of TV on your TV by enabling more apps to take the power of The One and extend it to reach even more television viewers, including stamping deals with one of the most consumer-friendly and consumer-favorite cable companies, Time Warner Cable.
Barring any complaints about extraneous fees, unfit service features, poor digital availability in some areas, limited channels under basic subscription fees and the whole upcoming deal with Comcast – as well as a striking win over Electronic Arts in the Consumerist's Worst Company in America contest – I think it's safe to say that Time Warner Cable isn't all that bad. I mean, there are some people who would give away their left nut to have a chance to wipe the company off the face of the Earth, but that's no biggie... no sweat off TWC's back.
Microsoft is ensuring that their deals with the cable companies are as beneficial to their big corporate friends as possible, and that's why they have the brand new and improved upcoming Xbox One app called EPIX for TWC subscribers. Of course, you'll need to have an Xbox Live Gold subscription in order to access your Time Warner Cable subscription content on your newly bought $500 console. Oops, hold on, there's a leak in the press e-mail Microsoft sent out... a bunch of capitalist '$' symbols just fell out all over the place. Dang it.
Anyway, the EPIX app will also be available for free for Xbox 360 users... for a limited time...
After June 18th regular fees may apply and an Xbox Live Gold subscription is required to access that free content.. which isn't all that free.
Anyway, things are still looking up for both Xbox One and Xbox 360 owners. Microsoft announced on the newswire (opens in new tab) that they have the new Encore Play and Movieplex Play for the Xbox 360, along with a brand new Major League Gaming app that's just launched.
Now I know most of the new TV on your TV apps are for the Xbox 360. I'm sure you Xbox One owners are saying "But what else do we get?" Well, Microsoft is going to be pampering you new-gen console owners... they wouldn't just make you pay for something and use a product that they would just discontinue out of the blue... oh wait, they already did.
Nevertheless, Microsoft has announced that MLB.TV is coming to the Xbox One and that current subscribers of the service will be able to make good on it with the Xbox One. See, it's not all bad... some of that TV on your TV is starting to come into play. Well... so long as you live in the continental United States and you aren't one of the 26 countries that have to wait to get your hands on the Xbox One later this year. Otherwise... yeah, it's not all bad.
Your Daily Blend of Entertainment News
Staff Writer at CinemaBlend.