Xbox One July Update Will Improve Achievements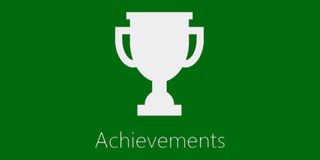 Microsoft closed out their week of announcements at E3 by revealing details on Xbox One's next system update. The July update will make needed changes to the console's Achievement system.
The system update allows players to use Snap Mode for Achievements. This is a fancy way of saying that you can check your Achievements list in real-time without leaving the game. You'll be able to see your progress toward each Achievement. This progress will be updated in real-time. If you're targeting certain Achievements, you can pin them to the top of the list.
Xbox One Achievements lists will come with a built-in help system too. If you click 'Get Help' on an Achievement, your console will consult the internet for tips. It'll do so by performing a Bing search query for "[the game's name] [the achievement name] achievement." Saves you the trouble of looking up GameFAQs on your phone, I guess. It's a clever way for Microsoft to drive traffic to Bing, too.
Snap Mode, the multi-tasking feature of Xbox One, will be easier to access. Double-tapping the Xbox button on your controller will bring up the Snap Center. Here you can select Achievements or another Snap-enabled app. You can then switch between your game and this other app with a double-tap.
Microsoft is giving gamers more options for Kinect's voice control as well. Gamers in New Zealand, Ireland and Austria will be able to pick English or German voice models from other countries. Players in English-speaking countries will have the option of choosing any English language model, in fact. It's Microsoft's way of accommodating students studying abroad and other expats.
Major Nelson said on his blog that they want to offer a greater range of bundles, physical and digital, for the Xbox One. For example, a publisher might be able to sell a game and all of its DLC in one Xbox Live purchase or a complete trilogy of games. No bundles were announced today but Nelson said that Microsoft's in discussion with publishers about these offerings.
Early access for the Xbox One July update will begin in a few days. The launch date and additional details on the patch will be released soon.
Image 1 of 3