Xbox One November Update Previews Custom Backgrounds, TV On Your TV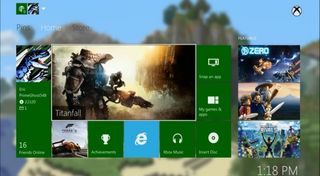 The October update for the Xbox One recently dropped and yet we're already in position to start looking forward to the new November update. So if September and October saw the addition of full DLNA support for USB devices and home server networks, what can you expect from November? How about optimized TV on your TV?
Over on the official Major Nelson blog there's a complete preview of everything you can expect to get out of the new Xbox One experience.
The big addition for November will be the custom backgrounds. This is something that gamers have been begging for since they had an Xbox 360 and bought an Xbox One. The ability to customize how your background looks for the Xbox One is finally becoming available next month.
It only took a year, but now the Xbox One is almost on par to the Xbox 360 (still missing native custom soundtracks as opposed to the custom soundtrack snap method)
If you don't feel like reading about the rest of the updates in the preview, you can check it out in the video below. Additionally, they've updated the gamer profile. You can now share your location and biography via your profile. I don't know if a location is such a great thing to share given that it makes it a little easier for trolls to track you down, but adding in a kick-butt bio on how you kick-butt, take names and milk the tears of the defeated through an untouchable kill/death ratio isn't a bad thing at all.
As mentioned, the TV watching aspects of the console have been upgraded. As mentioned on the site...
There's also a new series of "Trending" features, so you can see what TV shows are trending via Twitter and what TV shows are trending on Xbox. The Miniguide also now includes more options to favorite shows and keep track of the recent shows you've been watching.
As I mentioned, they made watching TV on your TV better, bigger and more visionary than ever before. You'll never watch TV on your TV the same way again.
Those of you participating in the Preview program will also have the ability to earn points for your participation, including points for providing feedback, partaking in polls, doing surveys and rating each update.
You can learn more about the update and the November preview by visiting the official website.
Your Daily Blend of Entertainment News
Staff Writer at CinemaBlend.