Xbox One, PS4 Sexy New Case-Mods Offered by Slickwraps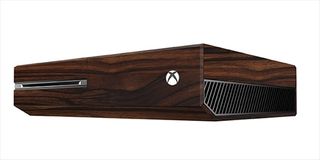 Turn your Xbox One into the vintage VCR it was always destined to become, by slapping some slick new skins over it courtesy of Slickwraps.
The accessories company is known for making portable cases for iPhone and Android devices. Usually they focus on carbon fiber wraps for smartphones and other mobile gadgets, but they also happen to branch out and offer some services for custom skins in a wide range of flavors for both the Xbox One and the PlayStation 4, in an attempt to compete with iCarbons no doubt.
That's right, that means you can bask that big black box in some dark ebony wood and give it a nice vintage look as if it came right out of the 1970s. If you're going for something with a little more panache, there's a mahogany grain skin that will have your Xbox blending in nicely as an Earthy accoutrement to your Betamax player and psychedelic wallpaper. Heck, I can't think of one person who wouldn't want their 60s-themed, retro-den decked out with Microsoft's latest console looking like a prime-time accessory for their pastime paradise.
Of course, if you're not into oldies but goodies, you can always explore more traditional case and controller mods for your Xbox One, such as the sleek red carbon fiber case or the hot pink skin for those of you who feel the big black box needs a bit more of a feminine touch. Hey, no one's going to judge you on it... except for maybe your friends, your family, your co-workers... and even your cat. But hey, that's no big deal. Just roll with it, brother.
You can check out the complete list of carbon covers and custom skins for the Xbox One over on Slickwraps specialized gaming console page.
Oh but that's not all. You thought this was just going to be a puff piece for Microsoft's Xbox One? Oh, ho, ho... no. Slickwraps was smart to go bipartisan in the console war and offer PlayStation gamers a bit of loving, too.
Now, I have to be honest... it looks like Slickwraps definitely likes the PlayStation 4 more than the Xbox One. As indicated with the image above, they have some amazingly sexy skins for the PS4. While the wood-grained tones featured for the Xbox One don't look nearly as auspicious on Sony's latest console, the other carbon fiber coats and brushed steel skins look marvelous on the PS4.
The solid gold skin featured above has a matted brushed finish to it, so it keeps it from looking too gaudy in the living room space. The controller – Sony's latest DualShock 4 – doesn't look quite as sexy with the coating as the Xbox One's controller, by comparison, but it does match the system nicely with certain palette hues splashed over it.
The brushed steel looks especially good, and hearkens back to the days of the PlayStation One. Very nice.
The PS4 also receives a few extra colors and skins, such as the lathered onyx, although I can't really say it does anything special to accentuate the lines of the system's design. The maple grain texture looks surprisingly appealing, though.
Of course, there's also the traditional red, black, blue and green if you're into the more passe flavors of the color spectrum. Either way, you can check out the full list of the PlayStation 4's skins over on the official Slickwraps page section.
Your Daily Blend of Entertainment News
Staff Writer at CinemaBlend.