Xbox One Release Day Games Include Fighter Within, Dead Rising 3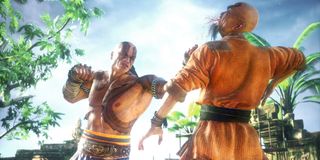 Microsoft has confirmed the full list of launch day titles for the Xbox One. If you pick up the next-gen console on day one, you'll have 23 games to choose from:
Assassin's Creed IV Black Flag (Ubisoft, Ubisoft)
Battlefield 4 (DICE, Electronic Arts)
Call of Duty: Ghosts (Infinity Ward, Activision)
Crimson Dragon (Grounding/Land Ho!, Microsoft Studios)
Dead Rising 3 (Capcom Vancouver, Microsoft)
FIFA 14 (EA Sports, Electronic Arts)
Fighter Within (AMA Ltd., Ubisoft)
Forza Motorsport 5 (Turn 10 Studios, Microsoft Studios)
Just Dance 2014 (Ubisoft Paris, Ubisoft)
Killer Instinct (Double Helix, Microsoft Studios)
LEGO Marvel Super Heroes (TT Games, Warner Bros. Interactive)
Lococycle (Twisted Pixel, Microsoft Studios)
Madden NFL 25 (EA Sports, Electronic Arts)
NBA 2K14 (Visual Concepts, 2K Sports)
NBA LIVE 14 (EA Sports, Electronic Arts)
Need for Speed: Rivals (Ghost Games, Electronic Arts)
Peggle 2 (Popcap, Electronic Arts)
Powerstar Golf (Zoe Mode, Microsoft Studios)
Ryse: Son of Rome (Crytek, Microsoft Studios)
Skylanders: Swap Force (Vicarious Visions, Activision)
Watch Dogs (Ubisoft Montreal, Ubisoft)
Zoo Tycoon (Frontier Developments Ltd., Microsoft Studios)
Zumba Fitness: World Party (Zoë Mode, Majesco)
If you've been following Xbox One news regularly, the only unfamiliar game on the list at this point should be Fighter Within. Within, announced today by Ubisoft, is a Kinect-powered fighting game. Ubisoft promises 1:1 movement tracking as players act out their characters move. The game supports both offline and online multiplayer.
"Think first, hit after: Skills are not enough to win a match, superior fighting tactics will give you the upper hand. Use your surroundings to your advantage, choose the right moves and signature attacks that will undermine your rival and finish him off with a devastating final blow," reads the official website.
Fighter Within is one of seven launch titles that's available exclusively on the Xbox One. The others are Crimson Dragon, Dead Rising 3, Forza Motorsport 5, Killer Instinct, Powerstar Golf, and Ryse.
Most of the launch titles are also being developed for the current generation. That includes the probable best-sellers Assassin's Creed 4, Battlefield 4 and Call of Duty: Ghosts. Lococycle and Zoo Tycoon, two Microsoft-published games for Xbox One, are also coming to Xbox 360. While Microsoft wants their new console to sell well, they have to hedge their bets a bit. The Xbox 360, with its tens of millions of active owners, still provides the better sales potential for software this holiday season.
What do you folks think of the Xbox One's launch titles? Good enough to make you want to buy the console? Voice your opinion below.
This poll is no longer available.
Staff Writer at CinemaBlend.
Your Daily Blend of Entertainment News
Thank you for signing up to CinemaBlend. You will receive a verification email shortly.
There was a problem. Please refresh the page and try again.