Xbox Originals Adds Blowout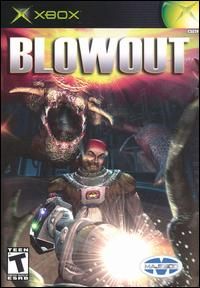 The Xbox Originals program on the Xbox Live Marketplace is a really good idea. Digital copies of classic, great Xbox titles, such as Ninja Gaiden Black, Psychonauts, and Fable, available for download straight to your hard drive. Benefits of downloading include slightly shorter load times, more shelf space for your Xbox 360 games, and the ability to give used retail establishments the middle finger.
Today on the Gamerscore Blog, they revealed the next title to be included among the best games the original Xbox had to offer. What was it? That one game that nobody played or has even really heard of, Blowout by Terminal Reality. I've asked several friends what they thought of Blowout, and the response was a unanimous "huh?" So there you have it, folks! A game that nobody really cares about is now being sold for the equivalent of $15.
My biggest question is "Why Blowout?" Like "How many licks does it take to get to the Tootsie Roll center of a Tootsie Pop?", the world may never know. Blowout will be available online on the 19th of Janurary.
Your Daily Blend of Entertainment News
Thank you for signing up to CinemaBlend. You will receive a verification email shortly.
There was a problem. Please refresh the page and try again.