Christopher Nolan Explains How Sylvester Stallone's Rocky 3 Inspired His Direction For The Dark Knight Rises
Inspiration can come from the unlikeliest of places.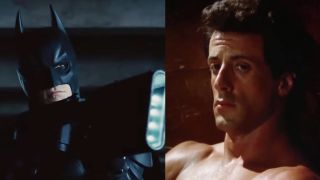 (Image credit: Warner Bros, MGM)
Christopher Nolan is high on the list of the best modern filmmakers. He's known for his visionary and bold body of work, which includes films like Memento, Inception and his comic-book genre-defining Dark Knight Trilogy (even if he believes some underappreciate it). Ask any artist where the inspiration for the work comes from, and you'll quickly find out it can come from just about anywhere. This is the case when it comes to Nolan's final Batman flick, The Dark Knight Rises. The mastermind behind the '00s critically acclaimed Cape Crusader movies recently revealed that his inspiration for the direction of the third and final installment of the series came from an unexpected source -- Sylvester Stallone's Rocky III.
In film critic Tom Shone's recently released book, The Nolan Variations, the Tenet director gets honest about his thoughts regarding trilogies and what he found particularly challenging when approaching a third film in a series. As the filmmaker explained, there aren't many good threequels, except for perhaps the iconic third installment in Stallone's boxing saga. Christopher Nolan says this realization drove him to switch direction and change genres when he began production on The Dark Knight Rises. The director said (via Fandomwire):
While deciding to shift genres was undoubtedly a bold move for the director, it paid off in the end. The Dark Knight Rises received a mostly positive critical reception upon its release in 2012 and was a box office success, grossing over $1 billion worldwide. Under Christopher Nolan's tutelage, the trilogy grossed over $2.4 billion at the worldwide box office. Batman Begins, and The Dark Knight received multiple awards and nominations, including numerous Oscar nods. Heath Ledger's performance as the Joker stood out in the latter and earned him multiple posthumous awards, including Best Supporting Actor at the 2009 Academy Awards.
At the time, superhero films arguably weren't taken as seriously during awards season, so Heath Ledger's posthumous win was a game-changing moment for the genre. We would not have had Ledger's now iconic turn as the Clown Prince of Crime had Christopher Nolan not gone with his instincts and taken the risk and hired the actor who was mostly known for romantic comedies, at the time of his hiring. All in all, it's another testament to Nolan's strength as a creative.
It might not seem obvious, but it makes sense that the Prestige filmmaker would turn to the Rocky franchise for inspiration. Rocky III is a brilliant sequel that firmly continues the boxing saga by giving the titular lead a perfect and personal antagonist in the form of James "Clubber" Lang, a young and hot-headed boxer hungry to win a title. As the movie opens, Rocky has everything but, when Clubber Lang arrives on the scene, steals his title, and kills his mentor, Mickey (Burgess Meredith), the Philly-born underdog has to turn to an unlikely ally to prepare for battle. Honestly, that synopsis sounds more like a superhero movie than a sports flick.
In the end, while unconventional, Christopher Nolan's decision to take inspiration from Rocky III and shift genres for The Dark Knight Rises proved to be a winning formula. While Rises might not be everyone's top pick in their Nolan movie ranking, many still believe his Batman movies comprise one of the best trilogies in all of cinema, not to mention what it was able to do for the respectability of the comic book genre. It's a testament to his creativity and willingness to take risks and a reminder that sometimes the most unexpected sources can lead to the greatest successes.
His next film, Oppenheimer, is expected to hit theaters on July 21 as part of the schedule of 2023 new movie releases.
Your Daily Blend of Entertainment News
Ryan graduated from Missouri State University with a BA in English/Creative Writing.