Concert Review: Kings Of Leon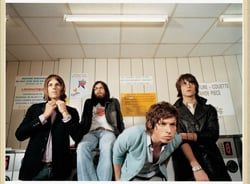 Kings of Leon are from a small town just outside of Nashville, TN. A band of brothers and one cousin, the Kings' two-night mini-residence at the historic Ryman Auditorium has been billed for months as a "Homecoming Engagement," native sons making good. There's only one problem with this set-up: most old-school music lovers in Nashville can't stand Kings of Leon.
The reasoning is petty and goes like this: once the Followills came of age and started their own band, they, like all young bands, had trouble finding their niche. After a brief stint as a country band, the Kings settled on rock and roll and released their debut, Youth and Young Manhood (the debut's hidden album-ending track hints at what might have been had they stuck with country). The album landed with a thud in America, but exploded in the UK.
So, without paying their Music City dues, Kings of Leon became rock superstars overseas. In the ensuing interim, they have developed a loyal and steadily growing American fan base as well, helped in large part by prodigious touring, including prime spots opening for U2 and Bob Dylan. Respect is hard to come by in Nashville, and the music scene never forgave Kings of Leon for bypassing the struggling local band route on their way to the top; for their part the Kings, perhaps rightfully so, have been cocky assholes about the whole thing (and everything else).
They were back home October 18 & 19, on the heels of their successful new arena-rock album, Because of the Times, with Black Rebel Motorcycle Club in tow, to mark their hometown arrival to the big-time. I went to the October 19 show interested in two things: first, in seeing how the Kings would respond to the Ryman experience, and second, in seeing how the crowd would treat their scene's prodigal sons.
People don't pay good money to boo, though, not even in Nashville. Black Rebel Motorcycle Club made sure anyone with a mind to do so forgot about those plans, with their steady rocking and incessant fog machine. BRMC have solidified their craft by this point, updating the power trio for a new, disaffected generation. Clapton and Baker probably wouldn't approve, what with BRMC's junkie jackets, moody aesthetic, and "Hey man, its music, can you fuckin' feel it?" vibe. But BRMC groove super hard and jam on loud guitars within those grooves quite well. Hey man, it's music; can you feel it?
Plenty of short skirts and knee-high boots were present and accounted for by the time Kings of Leon took the stage, lots of raccoon eyed girls determined to get backstage, no matter what their attached boyfriends had to say. The band entered to a raucous greeting, opening things right with "Black Thumbnail." The set stuck mostly to their last two albums, save what has become their set-closing staple, "Trani" (complete, as always, with Caleb slamming the microphone at the song's conclusion).
This was my third Kings of Leon show, and after enough time you start to understand their formula. Don't worry, it isn't very complicated: muscular drumming, loud guitars, and gigantic hooks, hooks which have only grown more prominent with each successive album (you can thank U2's influence for that). Caleb Followill has a distinct rock voice, an underestimated asset to any band, and the music gallops along at a clip that makes the whole shebang worth everyone's while.
All bullshit aside, Kings of Leon make a really good time. Start to finish, they serve the rock up loud and fast. No jamming solos, no ironic covers, no transcendent or life-altering showstoppers: just hook-laden southern-leaning rock with a sprinkling of indie sensibility. It is music capable of entertaining massive amounts of people at any given time, if only those people will let themselves be entertained by dudes wearing pants your kid sister couldn't fit into, by a band that carries the baggage of contemporaries caught unaware. It's entertainment, people, and Kings of Leon are a supremely entertaining live band.
Your Daily Blend of Entertainment News