The 10 Best High School Movies Of All Time, Ranked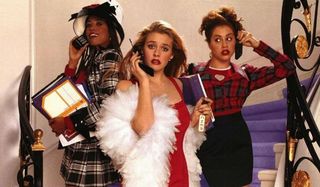 No matter your age, there's always one high school movie that sticks out as a pivotal moment in movie viewing pleasure. High school movies reach cult status for various reasons, but beyond the coming-of-age story that they tell, they can relate to multiple facets of one's life, or can act as a nostalgic picture that reminds us just how much you grow up after those four defining years.
There aren't many high school movies that are being nominated for Academy Awards (though there are some) but that doesn't mean their importance to us is unheard. Whether it be funny one-liners that catch our attention, a stellar acting performance that paves the way to further success, or just a relatable storyline that we can continually connect with, high school movies are some of the best examples of films that stand the test of time. Whether the story follows a group of teens in the '80s or recent years, high school is a rough place to find oneself, but pushes us to do so nonetheless. So here's our top 10 best high school movies of all time ranked, the movies that we can always go back to and thankfully recall that those four years eventually come to an end.
#10 Easy A
Now Oscar-nominated actress Emma Stone was just taking center spotlight in the 2010 teen comedy Easy A, and not only was the film topped by Stone's comedic and powerful performance, but it also gave a glimpse into high school culture in the more modern world. Bullied and ridiculed by the majority of her high school class, Emma Stone's Olive Penderghast uses the rumor mill to her advantage and helps out a whole slew of socially struggling students. Partially inspired by the Nathaniel Hawthorne novel The Scarlet Letter, Olive sews a red letter A to all of her clothing, and walks the halls owning her 'slut-shamed' name.
The film explores many of the difficult aspects of high school life, in particular bullying, ranging from student's being made fun of for their sexuality, weight or social status. Olive presents herself as a grounded individual trying to help the underdogs of the school, all while allowing her name to be driven through the dirt. Like any good high school movie though, Olive has her own personal journey throughout and of course ends on the note of young romance with the female protagonist finally getting together with her longtime crush.
#9 Dead Poets Society
While many of the best high school movies stick to the comedy genre, Dead Poets Society makes this list as the only true drama, but still a strong look into high school life nonetheless. We all wish we had as inspiring of a teacher as Robin Williams' John Keating, but alas, we all can't go to a fancy prep school like Welton Academy. Though the high school this film is set in may be far from typical, the students still fall into similar personality types as seen in many of the best high school movies.
Dead Poets Society gave us a group of high school students that many could relate to. Each one was finding themselves, and especially in the constructs of a private school setting, it was a difficult feat. Though the story takes a dark turn, it was a high school movie with a deeper meaning, teaching us to follow your dreams and feel inspired. Unfortunately like most high school movies, the young protagonists don't come into their own until the final few scenes of the film, in this case costing the career of one person who helped them the most.
#8 Dazed and Confused
Even though the majority of Dazed and Confused doesn't happen on high school grounds, it does capture the essence of high school life quite well. The 1993 Richard Linklater film that not only saw the start of some of the biggest names today from Matthew McConaughey to Ben Affleck rose to cult film status later in its life, but can still be recognized as one of the best high school movies of all time.
Exploring both sides of the spectrum in a high school setting, the outgoing senior class and the incoming freshman class, Dazed and Confused gave us a peek into what it means to move forward and the trials and tribulations that come along with change. Including a pivotal keg party, as well as sharing many characters first times exposed to alcohol and marijuana, it explored risky behavior and difficult choices, but along the way a whole lotta love and friendship. With many different types of characters, and terrific acting to boot, Dazed and Confused showed us just how fun high school can be, but also how important it was to help us grow up.
#7 Heathers
While we can't claim most high school movies entirely realistic, Heathers falls far from the bunch. The dark comedy, massive killings and overall tragic tone drives the plot of the film, but it still gives us a decent look into a realistic essence of high school. Winona Ryder's Veronica Sawyer was placed into the popular group that everyone desired. But in realizing just how evil the girls where, their nature rubs off on her, and accidentally ignites a mass killing spree.
Though her character's actions are brought to the extreme, the situations that bring out those actions are far too regular in a high school setting. Add a bad influence seen in Christian Slater's J.D. and it's a lethal mix. Though many of the deaths in the film are not quite suicides, the implications behind them are real situations that can cause teen depression. The film itself was a commercial failure, but later reached cult status, as well. And the creative take on a high school setting is enough sit Heathers comfortably on this list.
#6 Election
I would easily push Election higher on this list if it weren't for such tough competition in this category of film. The Academy Award nominated film is not only one of Reese Witherspoon's best performances, but also is an insightful comedy about what it means to take school a little too seriously. When Reese Witherspoon's Tracy Flick decides she wants to be student body president, she goes all in, and she's not afraid to hurt anyone and everyone along the way. In comes to play Matthew Broderick's Jim McAllister, a popular teacher at the school who is not fond of Tracy Flick's goody two-shoe, two-faced style.
Tracy, too mature for her age, and placed in a high school setting takes to politics as her main outlet. And as a smart and cynical teenager, she is perfect for the gig. In a plot that pins teacher against student, this high school flick not only exposes the inner workings of the high school social system, but also the difficulties of teachers dealing with high school students. Tracy's competitive nature only takes her to extremes when pushed by her teacher, and it perfectly captures where an overeager nature can go wrong.
#5 Fast Times at Ridgemont High
Fast Times at Ridgemont High is one of the more successful high films in capturing many different aspects of high school life. With an ensemble cast that ranges in age and character type, the movie successfully captured what it meant to be a high school student from different angles. The two subplots chronicle a full school year in the lives of the students. In exploring multiple worlds, the film dives into part-time employment, losing one's virginity, break ups, teen pregnancy, and high school deadbeats.
What makes the movie stick out even more is how it shows the distinction between different years of high school, and how the older students see themselves in comparison to their younger counterparts. But not only is it successful in humorously engaging teen promiscuity and the discomfort that follows, but it also has an equally hilarious subplot between Sean Penn's Jeff Spicoli, a carefree stoner, and his uptight history teacher, Ray Walston's Mr. Hand. The dual story lines allow the movie to encapsulate all different situations and realizations that come from living high school life.
#4 Ferris Bueller's Day Off
Ferris Bueller himself spends no time on high school grounds during the adventure that is Ferris Bueller's Day Off. But along with the school's reaction to his absence, as well as the eventful day Bueller spends with his friends, the film perfectly dives into what it means to be a high school student. On the ultimate 'sick day' Ferris, his girlfriend Sloane and best friend Cameron go on the most epic of adventures showing off the excitement that goes along with skipping school for the day. By the end though, we learn an eventful day can lead to an unwanted final outcome.
As a film, Ferris Bueller's Day Off is one of the best, and the only reason it doesn't rank higher on this list is because of the main character's lack of time spent in actual high school. We do get to explore many of the teen tropes though, including a bitter older sister, an annoyed teacher seeking to catch Ferris in the act, and the deeply profound friendship between three misfits.
#3 Mean Girls
Combine Tina Fey's witty screenplay along with a Lindsay Lohan in her prime and a breakout performance by Rachel McAdams and what do you get-- Mean Girls. Filled to the brim with memorable one-liners, Mean Girls quickly reached cult success, and though it is the more modern of this top 10 bunch, there's no doubt it will stand the test of time. Lohan's Cady is an unsocialized teen who spent her first 16 years homeschooled, when she is placed into the most dangerous jungle of them all-- high school.
Though Cady may not have the social skills up to par with many of the students, her looks land her a position in the popular mean girl group, The Plastics. All the, Cady had formed a meaningful relationship with a group of outcasts, who push her to take on her role in The Plastics, and take the mean girls down. But like any good high school flick, sometimes the drama and politics in the social hierarchy can get to even the purest of heart. Mean Girls is packed with powerful comedic performances, with Tina Fey as the lead teacher in the mix. It's hysterical but also touches deeply on how mean girls can be in high school, and where the line needs to be drawn.
#2 Clueless
Like many of the films that make the best high school movie list, Clueless centers on a group of wealthy, good-looking, and popular girls. Alicia Silverstone's Cher has it all, all but a clue that is. High atop the social scene and easily securing anything she wants, Cher goes on the endeavor to try and make others happy, and curb her somewhat innocent selfishness. Clueless is a high school movie classic. Though the popular girl role is not an icon that is easy to relate to, Cher's confusion and self-doubt are things every high school student experiences.
Producers of the film had even sat in on Beverly Hills High School students, just to get a real feel for the culture. While obviously dramatized, the interactions between students of all different types makes this film even more endearing. Ending on a good-hearted note, and exposing to us what it means to be helpless and caring in a harsh and competitive environment was a fitting way to close a coming-of-age story. The cult following of this classic is well-deserved, especially thanks to the relatability and sincerity of Cher's journey to finding a clue.
#1 The Breakfast Club
It wouldn't be a best high school movies list without The Breakfast Club, and it wouldn't be an accurately ranked one without the John Hughes movie taking the number one spot. Considered the greatest high school movie of all time by both critics and fans alike the storyline brings together five teenagers of all different high school cliques to spend one epic Saturday detention together. Each realizing they probably have more in common then they would have ever realized in their day-to-day high school lives it gives us a look into the struggles that every high school student goes through, no matter the group they associate with.
Filled with top notch performances from actors such as Emilio Estevez, Paul Gleason, Anthony Michael Hall, Molly Ringwald, Ally Sheedy, Judd Nelson and John Kapelos, the story itself gives viewers an opportunity to break down walls that high school movies often stick within and bring a ragtag group of unusual friends together in their own defeat. Friendships and romantic relationships form all as one day progresses, and the story which shows the unheard voices of different social statuses in the school shows why high school cliques never last, and the importance of seeing someone for who they are, not just what they represent at surface level. The insightful and witty look into the inner workings of what it means to be a teenager is a story that can attract an endless audience, standing up to the test of time and generational differences.
Your Daily Blend of Entertainment News
Thank you for signing up to CinemaBlend. You will receive a verification email shortly.
There was a problem. Please refresh the page and try again.