The 10 Best Movie Music Moments Of 2011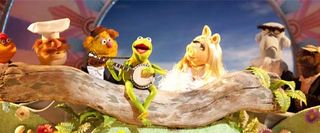 Has it been a full year already? It feels like just yesterday I was praising the music of movies like Scott Pilgrim vs. The World, The Social Network, and Inception. But indeed the globe has once again made a full trip around the sun, and that means it's time for my third annual list of Best Movie Music Moments.
Much like 2010, this year was packed with not only amazing soundtracks, but also movies that knew how to use songs to perfect effect. From the synth sounds in Drive to the insanely happy tunes in The Muppets, this year in music moments made audiences feel unending joy and devastating sadness, but it all made for great times at the cinema. So strap in, get comfortable, and enjoy some of the best scenes that 2011 had to offer.
(Warning: There are some spoilers involved below. If you haven't seen one or more of the films, you might want to skip the appropriate sections until you have)
Drive
Song: "A Real Hero" by CollegeUp to this point in the movie we know Ryan Gosling's character as the getaway driver, the stuntman and the loner, but all of those sides of the character come with a sharp edge. He approaches all of his jobs with a strict, stoic intensity that comes with pure professionalism. So when the unnamed driver is assigned the task of driving his neighbor, Irene, home from the repair shop, director Nicolas Winding Refn uses the scene to show off the lead's softer side. Unlike most filmmakers, though, he doesn't accomplish this by having Driver and Irene share a pleasant conversation in which they talk about their lives – instead, he lets the music set the mood and for that he has "A Real Hero" by College. As a whole, the Drive has arguably the greatest soundtrack of the year, mixing Cliff Martinez's score with brilliant tracks by artists like Kavinsky, Desire, and The Chromatics (this was easily the hardest song on the list to choose), but College's song just fits the movie so perfectly, as Driver shows his capacity to be both a real human being and a real hero.
Rango
Song: "We Ride, Really!" by Hans ZimmerRango is one incredibly strange movie, but that's what makes it so delightful. From the bizarre-looking spastic lead to the plot ripped straight out of Chinatown, Gore Verbinski's film revels in being an oddity, but also a pure western. And what would a great western be without amazing music playing while the band of heroes gallops out into the desert? Bringing that element together is composer Hans Zimmer, whose score is amazing up and down, blending both southern and western elements, but "We Ride, Really!" is by far the best track. What makes the scene so great is the self-awareness of the characters, particularly in the way that Rango addresses the owl mariachi band that has been singing about the chameleon's fate from the start of the movie. With a loud whip crack the trumpets start blaring and the quest begins. It's also worth noting that any movie that can include a scene in which an owl rocks out on a blue Stratocaster will always find a spot on this annual list.
Bridesmaids
Song: "Hold On" by Wilson PhillipsIt sounds cheesy, but every friendship has pieces of music that are important, and for Annie and Lillian that song is "Hold On" by Wilson Phillips, as evidenced by the fact that a CD copy of the band's debut album is included in Annie's bridal shower gift. Unfortunately, Helen exists. After ripping off our protagonists idea to have a French theme at the shower, Helen even goes as far as to take Lillian on her dream vacation to France, which is a truly devastating blow to Annie's psyche. So when Helen actually hires Wilson Phillips to appear at Lillian's wedding to sing "Hold On", it's a bittersweet moment, but also a hysterical one, as it comes just after Annie and Helen have made peace. What makes the choice so perfect is that it's a song that has basically been manufactured out of pure, unadulterated 90s nostalgia, and everyone that is old enough to watch the movie knows every single lyric. I will concede that Harold and Kumar Go To White Castle did a great job of bringing the band back in 2004, but its inclusion in Bridesmaids is just as great.
Shame
Song: "New York, New York" by John Kander and Fred Ebb, performed by Carey MulliganThough we never hear explicitly what event from their shared past caused the relationship between Brandon and Sissy Sullivan to be so stressed, but its present in every interaction they have. Every day for Brandon is a struggle against his own impulses and when Sissy moves in it's like a hurricane has landed. As a defense mechanism he treats her with hatred and derision at every turn, but he can't help his emotions when he goes to see her perform at a local bar. The only way to describe the performance is hauntingly beautiful, as it causes Brandon to break down in tears. The song is perfect not just because of how Mulligan sings it, but because of the song choice itself. Originally performed by Liza Minnelli with a full band and being belted to the rooftops, the choice to use a piano and slowed melody not only matches the film's atmosphere, but perfectly captures the film's theme of isolation and reflects how director Steve McQueen shoots New York City. By the end of the scene it's not just Brandon with a tear in his eye, but the entire movie-going audience.
X-Men: First Class
Song: "Frankenstein's Monster" by Henry JackmanIn the early goings of Matthew Vaughn's X-Men: First Class Magneto is fuelled by nothing but anger and the desire for revenge. Every waking moment is spent thinking about and hunting down Sebastian Shaw, the man who tortured him in the concentration camps during World War II. And he's finally getting close. His sources and interrogation methods have brought him to a small bar in Argentina, which empty with the exception of the bartender and two men casually drinking and conversing at a table in the middle of the room. He then spots a photograph of Shaw on the wall that tells him exactly where the war criminal is hiding, but leaving Shaw's cohorts unharmed isn't part of the plan and as the action rises so does Henry Jackman's score. It all starts with a beautiful strumming guitar, but as soon as Magneto recognizes the German beer and the violins begin to play, you know immediately that things are about to turn. Slowly but surely the score gets faster and louder as our Jewish protagonist reveals himself to the Nazis and takes his revenge. It's a beautiful and intense scene that would be nothing without the perfect score created to go along with it.
Moneyball
Song: "The Show" by Lenka, performed by Kerris DorseyThere's no denying that Billy Beane is completely obsessed with his job, and that obsession does a pretty fantastic job crumbling his social life. He doesn't seem to have any friends outside of his job (and even they don't like him very much) and he has an ex-wife who has already remarried. The only person in his life that he actually seems to care about is his daughter and in no place is that clearer than when Billy brings her to a guitar shop and has her sing him a little song. Really, the look on Billy's face says everything that needs to be said. I also happen to be a big fan of music with lyrics that fit the theme and plot, and this does that without being too on-the-nose. I will admit that some people will find this song choice a little controversial, as the movie is set in 2002 while the song wasn't written/released by Lenka until 2008, but, to tell the truth, I don't give a shit. It's a beautiful little song that is performed sweetly by Kerris Dorsey and is a perfect match for the scene. Stop being such a cynical asshole, shut up, and enjoy the damn song.
The Muppets
Song: "Life's A Happy Song" by Bret McKenzie, performed by Jason Segel, Amy Adams and Peter LinzAt the beginning of The Muppets it seems as though things couldn't get any better. Brothers Gary and Walter are about to take a trip out to Los Angeles with Gary's beautiful girlfriend, Mary, and Walter is finally going to get the chance to visit Muppet Studios. So why not sing a song about it? Though every song that Bret McKenzie wrote for the movie's soundtrack is amazing and Oscar-worthy (are you listening, Academy?) "Life's A Happy Song" gets a spot on the list simply because it's so damn jovial and catchy. In proper opening number fashion, the musical number immediately establishes the tone of the film as well as the relationships. Gary and Walter couldn't be more happy together, but the film also has its poignant moment as Mary wishes that she could spend more alone time with her beau. Throw in hilarious lyrics like "Life's a filet of fish, eh!...Yes it is!" and cameos from both Feist and Mickey Rooney and you have all the makings of the greatest number from the greatest musical of the year.
Hanna
Song: "The Devil is in the Details" by The Chemical BrothersOf all the odd and stylized things about the kid-assassin movie Hanna, Tom Hollander's tennis-whites-wearing Isaac might be the most fascinating and eternally strange. We meet him first in a strip club, where the clanging tune is playing as music for one of the dancers onstage, and where Cate Blanchett's Wicked Queen-esque Marissa Wiegler assigns him to hunt down the escaped Hanna. When he finds her, it's in the company of the family she's been hitchhiking with, a family that's her first taste of normalcy in her entire uncommon life. Separated into shipping containers for questioning, the family is about to die for the privilege of having known Hanna, a horrible moment that's somehow only heightened, not ruined, by Hollander's whistling. The song is so bright and cheerful, but so menacing as he tosses a metal baton that we know will be a weapon of torment. The entire score for Hanna by the Chemical Brothers is tight and memorable, but it's this one little jingle, used perfectly within the film, that haunts. (Contributed by Katey Rich)
Captain America: The First Avenger
Song: "Star Spangled Man" by Alan Menken & David ZippelBoy, that Steve Rogers really wanted to fight in World War II. From lying on his enlistment form to signing up for a strange medical procedure, Steve showed in Captain America: The First Avenger that he was willing to do anything to help our boys overseas. So when the man responsible for his rebirth was killed and there was a threat he would spend the rest of his life being analyzed by scientists, our hero grabbed the first opportunity he could get: selling US war bonds while on stage with a bunch of line dancers singing "Star Spangled Man." In a film jam-packed with terrific, fun moments, this musical montage takes the cake, as Rogers struggles at first with the dialogue, reading it off the back of his shield, before becoming a confident showman. The song itself is so energetic that you half expect lyrics to pop on screen guided by a bouncing ball. The sequence even manages to be self-reflexive, addressing the character's origins as a propaganda figure by having kids go out and buy Captain America comics with the red, white and blue warrior on the front. All in all, it's one of the best parts in one of the best comic book movies we've seen yet.
The Girl With The Dragon Tattoo
Song: "Immigrant Song" by Trent Reznor, Atticus Ross, and Karen OThere are thousands of films each year that use amazing music in their trailers and then leave the tracks out of the final cut of the movie, and generally that's fine – the song may have worked for the style and pacing of the preview, but didn't really fit in the actual product. That said, it would have been a crime not to include Trent Reznor, Atticus Ross, and Karen O's cover of Led Zeppelin's "Immigrant Song" in David Fincher's The Girl With The Dragon Tattoo. From the song's industrial beat to Karen O's incredible, howling voice, it's a version of the song that both pays respect to the original while also creating something completely new. But this isn't a list about best music from 2011 movies, this is a list of the best music moments from 2011 movies, and in this case the utilization is a jaw-dropper. The opening title sequence of The Girl With The Dragon Tattoo is a dark goo-covered, gritty, grungy, explosive bit of cinema that operates like James Bond theme that has been shot up with black tar heroin. The music video above is an altered version of it, but the real thing is something that demands to be seen on the big screen multiple times over.
For more of our end-of-the-year coverage, visit our Best of 2011 page.
Assistant Managing Editor
NJ native who calls LA home and lives in a Dreamatorium. A decade-plus CinemaBlend veteran who is endlessly enthusiastic about the career he's dreamt of since seventh grade.
Your Daily Blend of Entertainment News
Thank you for signing up to CinemaBlend. You will receive a verification email shortly.
There was a problem. Please refresh the page and try again.