The 10 Best Movies Of 2015, According To The National Board Of Review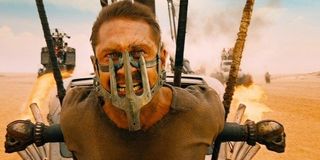 Now that November has rolled into December, and the threat of a new year lingers on the horizon, it's time for critics, Guilds, and boards to band together and figure out what exactly were the best films of 2015. Even though December is just a few hours old, The National Board Of Review hasn't missed a beat in honouring the finest cinematic achievements of the past 12 months. And, for a change, they've actually named, arguably, the best film of year as the best film of the year.
That's because Mad Max: Fury Road was named as The National Board Of Review's best film of 2015 on Tuesday, via The Hollywood Reporter. While picking out and highlighting the rousing cinematic achievement that is Mad Max: Fury Road as the cream of the crop, the NBR also decided to round off the top 10 in no particular order. Want to see what they called the best movies of the year? Of course you do.
There is one outstanding omission from this list that NBR wasn't able to consider, and that is Star Wars: The Force Awakens, though they reportedly saw everything else in contention. However, it's safe to say that those involved in the latest instalment to the sci-fi franchise won't be losing any sleep over their decision not to screen the blockbuster for critics. Instead, they're only allowing them to see it just a couple of days before its wide December 18 release date.
Looking at the list, there's an argument to be made that while both Creed and Straight Outta Compton are entertaining and generally impressive films their inclusions on this list is a little surprising. Especially since the likes of Joy, Carol, Mission: Impossible – Rogue Nation, and Brooklyn were overlooked. But, in all honesty, it's good to see more ethnically diverse films included in such honors, especially since the Academy inexplicably, and regularly, still fails to recognise their talents.
You won't find many people arguing about the fact that Mad Max: Fury Road came out on top though. Sure, personally, I can't look beyond Inside Out as the best film of the year, and, on repeated viewings, I've found that Mad Max: Fury Road's ferocity and relentlessness is actually a detriment. But its overwhelming artistry and its stunning execution of its vast array of actions scenes means that it has pumped new blood into the genre. So much so that I won't argue its status too loudly.
You can expect to see Mad Max: Fury Road topping plenty more Best Of lists before the end of December. Which will, in turn, hopefully convince Warner Bros. to finance its much touted sequel.
Your Daily Blend of Entertainment News
Thank you for signing up to CinemaBlend. You will receive a verification email shortly.
There was a problem. Please refresh the page and try again.