The 10 Best Movies Of 2015, So Far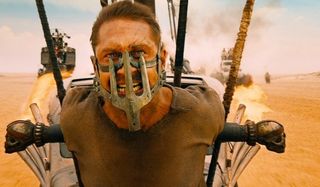 Somewhere right around today (give or take a day or two), we reached the halfway mark of the calendar year of 2015. What better time to single out the movies that we, as a staff, think you need to have caught up with before we plunge into the backend of what has become an interesting film frame?
At the start of the year, we thought 2015 was going to be bigger. Batman v Superman was on the docket for this year (until it moved back), and Star Wars: The Force Awakens was thinking about launching in the summertime. Plans changed, but decent films slid in to fill the void. The CinemaBlend staff saw a lot of movies during the first six months of 2015, and we tracked all of our scores to come up with a collective average of the 10 best movies that have reached theaters. We probably missed a few that you adored, so help us out in the comments section. We expect the second half of 2015 to be busy with similar blockbusters and Oscar-worthy fare. But for now, these are the 10 movies you need to go out of your way to see, organized by the date on which they were released.
Paddington
Release date: January 16
Plot: A young bear raised in the jungles of Peru is shipped to London, where he attempts to find a caring family.
Our review: "The big reason Paddington works so exceedingly well is that everyone involved is firing on all cylinders, fully committing to a film that's basic premise is extremely fantastical."
Kingsman: The Secret Service
Release date: February 13
Plot: Troubled UK teen "Eggsy" (Taron Egerton) is recruited into a covert operation of deadly spies, then is tasked with stopping the global-domination schemes of the wicked Richmond Valentine (Samuel L. Jackson).
Our review: "Singling out Kingsman's action, and only its action, overlooks everything else Vaughn gets right with the film. His cast is incredible, from the chemistry shared between Firth and Egerton to the priceless contributions made by brilliant character actors like Mark Strong, Mark Hamill and Michael 'Fucking' Caine. Though Kingsman has to take a few obvious steps to establish this world, Vaughn's style – and his music selection – always keeps the film rocking on an energetic axis."
The DUFF
Release date: February 20
Plot: The DUFF stands for the "Designated Ugly Fat Friend." High schooler Bianca (Mae Whitman) learns that her fellow students believes she is The DUFF, so she enlists a charming jock (Robbie Amell) to help her reverse her image.
Our review: "The DUFF is a teen comedy that can sit beside Mean Girls, in the respect that it takes its subject matter on with a meta sensibility. It's should also be seen as a good launching pad for Mae Whitman to start playing some more lead roles, as she not only carries this film, she makes it pop."
'71
Release date: February 27
Plot: Stuck behind enemy lines after a military maneuver falls apart, a young British soldier (Jack O'Connell) must avoid hostile Belfast locals and survive a very difficult night before a rescue mission can take place.
Our review: "Jack O'Connell seems poised for stardom. He's rugged, boxy, and built for an action career. His nose forms a natural arrow that cuts through tense situations, and he has a broad forehead that sits atop his tough-guy squint. He passes the eye test when it comes to action protagonists, and easily positions '71 as a potential war-time thriller."
Cinderella
Release date: March 13
Plot: Sir Kenneth Branagh tackles the classic fairy tale, giving it a live-action twist, as the put-upon orphan (Lily James) triumphs over a wicked step-mother (Cate Blanchett) and finds true love after attending a magical ball.
Our review: "Lily James, in particular, is absolutely lovely. Her character's unbreakable buoyancy and positivity always feels inspirational rather than cloying or weak. In textbook contrast, Cate Blanchett's Lady Tremaine is exquisitely evil, with the actress clearly cherishing the opportunity to play a real mustache-twirling villain."
It Follows
Release date: March 27
Plot: A supernatural and deadly force follows a beautiful teenager (Maika Monroe) after she has sex with her new boyfriend… not knowing that he was merely trying to "pass" the entity on to her.
Our review: "Creepy, unsettling and intelligently barebones, this horror gem from David Robert Mitchell will be the scariest thing you'll watch all year."
Ex Machina
Release date: April 10
Plot: Reclusive genius Nathan (Oscar Isaac) believes he has cracked the code on Artificial Intelligence, so he invites an expert programmer (Domhnall Gleeson) to come to his hideaway and run tests on Ava (Alicia Vikander), his groundbreaking creation.
Our review: "Alex Garland has shown us time and time again that he is one of the most gifted sci-fi screenwriters working today, but Ex Machina also displays that the filmmaker has an exciting eye as a visual artist, as the movie is as beautiful as it is captivating."
Mad Max: Fury Road
Release date: May 15
Plot: In a burned-out post-apocalyptic desert, Max Rockatansky (Tom Hardy) gets swept up in Imperator Furiosa's (Charlize Theron) plan to rescue the multiple brides of the sadistic Immortan Joe (Hugh Keays-Byrne). Vehicular insanity ensues.
Our review: "Mad Max: Fury Road is a special film. It's bombastically entertaining and action packed, but it doesn't disregard emotion and story; and it's a fitting follow-up that will make lovers of the Road Warrior giddy."
Love & Mercy
Release date: June 5
Plot: Director Bill Pohlad tells the touching, tragic yet inspirational story of the brilliantly troubled songwriter Brian Wilson at two different stages of his life: During the recording of The Beach Boys' "Pet Sounds;" and during his later, uneven years.
Our review: "Love and Mercy is an audio trip, and the way that you listen to this movie needs to be part of the overall experience. Not just the music – though the sugar-sweet tones of The Beach Boys' spiritual harmonies remain gifts to our ears nearly 50 years after they were put to tape. But Pohlad … uses sound in intriguing ways to convey the madness in Wilson's head."
Inside Out
Release date: June 19
Plot: Pixar's latest takes us inside the head of an 11-year-old girl, where dominant emotions like Joy (Amy Poehler), Sadness (Phyllis Smith) and Anger (Lewis Black) control her daily mood swings.
Our review: "Inside Out has the exact same kind of old school Pixar magic that turned the company into the biggest modern name in animated feature films. It's a perfect addition to the ever-growing legacy. It's a phenomenal, touching and special piece of art, and fittingly a mind-blowing and emotional experience."
Sean O'Connell is a journalist and CinemaBlend's Managing Editor. He's frequently found on Twitter at @Sean_OConnell. ReelBlend cohost. A movie junkie who's Infatuated with comic-book films. Helped get the Snyder Cut released, then wrote a book about it.
Your Daily Blend of Entertainment News
Thank you for signing up to CinemaBlend. You will receive a verification email shortly.
There was a problem. Please refresh the page and try again.